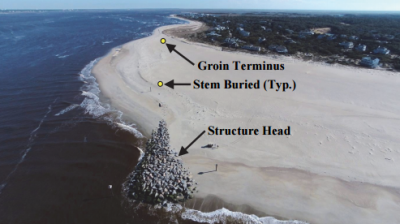 BALD HEAD ISLAND — Work that began mid-January on a beach renourishment project here is expected to be complete by the end of the month.
Marinex Construction Co. of Charleston, South Carolina, under an $11.7 million contract, is moving 1.1 million cubic yards of sand from Jaybird Shoals, a sand deposit about a mile and a half from the placement area, to South Beach on Bald Head Island, according to a report from International Dredging Review.
The sand is expected to protect a terminal groin completed in late 2015, create a 200 to 250-foot-wide, half-mile berm and cover a tube groin field of 13, 300-foot-long, sand-filled geotextile tubes put in place to prevent erosion into a nearby shipping channel and slow the rate of sand loss.
Marinex is using Savannah, a 250-foot long, 24-inch cutter suction dredge, two tender vessels, a standby tug, and anchor barge and a crane barge for this project.
Sand accretion is expected to provide fillet for the 1,130-foot semi-permeable terminal groin at the end of the beach system on the west end of South Beach.
The terminal groin was approved by the state, the only one of four permitted to be constructed under current law, after the first Wilmington Harbor deepening project, when it was determined that sand was rapidly being lost from the beaches, especially South Beach. The current project satisfies the state requirement to replenished the fillet for a rock terminal groin.
According to the report, beach surveys suggest that the terminal groin helps retain sand on the shoreline and the navigation channel that experienced chronic shoaling did not need maintenance dredging in 2018.