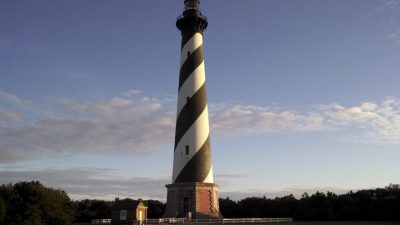 The partial U.S. government shutdown, which entered its 24th day Monday, will likely delay two Cape Hatteras National Seashore projects: a new parking area at Kite Point and the new Buxton Beach Day Use Area, the Island Free Press reported. A new time frame is not available regarding when the projects will begin, or be completed.
However, some park services provided at parks in the National Parks of Eastern North Carolina group that were interrupted when the shutdown went into effect Dec. 22, 2018, have been restored using Federal Land and Recreation Enhancement funds, including reopening a few restrooms and trash collection by a small park maintenance crew.
Construction of the Kite Point parking area to be situated soundside between Avon and Buxton was scheduled to begin in January. The lot was to feature about 50 parking spaces, a paved entrance and a hard-packed surface of clay and shells rather than pavement.
Work was to begin in February on the Buxton Day Use Area, which is to be at the end of Old Lighthouse Road at the site of the former Naval Facility Cape Hatteras. The first phase of the  project will be clearing the road and opening the entrance to the site, installing about 50 parking spaces and a portable "Mobi-mat" walkway to provide handicapped access.
When the shutdown began, Cape Hatteras National Seashore visitors centers closed and many services were interrupted, although the beaches remain open. The park has seven to 10 staff members of its about 90 working intermittently during the shutdown, while the rest of the personnel have been furloughed.
The National Parks of Eastern North Carolina announced Saturday that many services were to be restored this past weekend, including the opening the restrooms at Whalebone Junction, Cape Hatteras Lighthouse and next to the Ocracoke Visitor Center. 
The facilities will be opened using the Federal Land and Recreation Enhancement funds generated by recreation fees such as camping, park entrance and lighthouse climbing fees. Also, trash is to be removed at visitor areas at Cape Hatteras National Seashore, Fort Raleigh National Historic Site and Wright Brothers National Memorial.
Though some restrooms are open and trash services are restored, other services are not available during the lapse in appropriations, including visitor centers, ranger talks and other programs, which is also the case at Cape Lookout National Seashore. 
According to the National Park Service website, park roads, parking lots, trails and beaches at Lookout remain accessible during the shutdown but emergency and rescue services will be limited. The Harkers Island visitor center is closed and there will be no visitor services provided by the National Park Service at Cape Lookout National Seashore, including information, restrooms, trash collection, maintenance and special programs.
The North Carolina Beach Buggy Association Jan. 12 made an effort to help the National Park Service keep Cape Hatteras National Seashore clean by hosting a cleanup day, the Island Free Press reported. Fourteen volunteers met at the Salvo Day Use facility on Hatteras Island, and took assignments both north and south of Salvo. All trash collection containers had their existing trash bags changed out with new trash bags in both refuge containers and recycle bins. Several of the volunteers conducted some roadside cleanups, while others rode the beaches picking up litter as they went.
Learn More