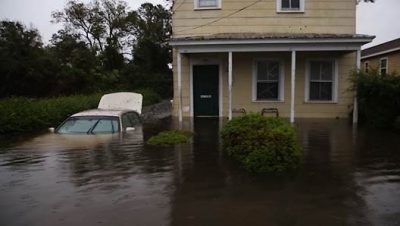 NEW BERN — Lois Cantlow of New Bern is featured in a The Washington Post series that looks at new data behind Hurricane Florence's flooding and how rising seas contributed to the damage of her home, the news outlet announced Tuesday.
Her story is part of "Gone in a Generation,"a multimedia reporting series published Tuesday by The Washington Post that explores how climate change is affecting the United States and how it alters the planet. The series features reporting, data visualizations, scenery and video footage of families from five different states.
Cantlow, whose family has lived in the Craven County town for six generations, said that her home was under 5 feet of floodwaters, which closely matches the findings from storm surge modeling by researcher Rick Luettich at the University of North Carolina Chapel Hill, according to the series.
In Cantlow's case, scientists say that climate change wasn't the biggest driver behind the water that flooded her home but did worsen the flooding, according to the announcement. "Experts calculate that rising seas made flooding at Cantlow's address 'at least two-thirds of a foot deeper.' In her Sunnyside neighborhood, the rising seas caused 15 percent more homes 'to experience significant flooding'."