CHAPEL HILL – A federal judge ruled Monday that the U.S. Fish and Wildlife Service violated provisions of the Endangered Species Act and the National Environmental Policy Act in its rollback of protections of red wolves in eastern North Carolina.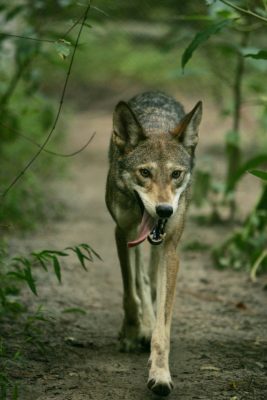 U.S. District Court for the Eastern District of North Carolina Chief Judge Terrence W. Boyle also made permanent the court's Sept. 29, 2016, order stopping the USFWS and private landowners from capturing and killing red wolves without first demonstrating that the wolves are a threat to human safety or the safety of livestock or pets.
The case was brought by the Red Wolf Coalition, Defenders of Wildlife, the Animal Welfare Institute and the Southern Environmental Law Center. In addition to the Fish and Wildlife Service, its acting director Jim Kurth and acting regional director Mike Oetker of the service's Southeast region were named as defendants.
Boyle found that USFWS' "argument that their current red wolf management efforts are sufficient and within their discretion fails," according to the ruling.
Conservation measures that had helped the red wolf population grow from 16 animals in 1987 to more than 130 in 2016 had been abandoned in recent years, advocates said, allowing their numbers to drop to as few as 24 in the wild.
"For four years now, the U.S. Fish and Wildlife Service has been dismantling one of the most successful predator reintroductions in U.S. history," said Sierra Weaver, senior attorney for the Southern Environmental Law Center. "The service knows how to protect and recover the red wolf in the wild, but it stopped listening to its scientists and started listening to bureaucrats instead.  The law doesn't allow the agency to just walk away from species conservation, like it did here."
The Fish and Wildlife Service moved to avoid court action on the lawsuit by proposing a new rule in June to restrict wild red wolves to one National Wildlife Refuge and a bombing range in eastern North Carolina, while allowing the immediate killing of any wolves that live on or wander into nonfederal lands. Previously, these wolves could roam a designated 1.7 million-acre, five-county Red Wolf Recovery Area.
Conservation groups opposed the proposal, seeking reinstatement of previous management measures.
"Rolling back protections is the opposite of what this species needs," said Kim Wheeler, executive director of the Red Wolf Coalition. "The court's ruling today makes clear that the USFWS must recommit to red wolf recovery and resume its previously successful management policies and actions."
Conservationists noted that virtually all of the more than 108,000 public comments on the agency's proposed rule were opposed. Fewer than 50 comments, including 13 from a real estate developer, supported the proposal to restrict red wolves to federal lands in Dare County.