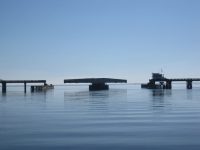 EAST LAKE – The Alligator River Bridge in Tyrrell and Dare counties, which has been a vital part of travel to and from the Outer Banks for the last six decades, has recently undergone a major renovation.
The renovations to the 59-year-old bridge were completed last week. The 17-month project came at a cost of $16.7 million, according to an announcement Friday from the state Department of Transportation.
The bridge renovations included a new epoxy deck overlay to prevent water from seeping off the road surface onto the bridge structure underneath,  joint replacements, repairs to the concrete superstructure and mechanical and electrical rehabilitation of the bridge's swing span.
The bridge on U.S. 64 is a route for Outer Banks travelers and storm evacuations. Officials said the renovations were made to ensure that the bridge is safe and operable until a replacement can be built.