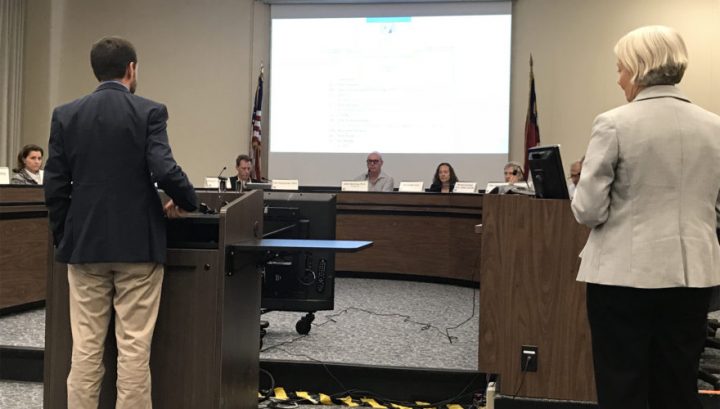 From a North Carolina Health News report
RALEIGH — The North Carolina Secretaries' Science Advisory Board during an Oct. 22 meeting made no substantial changes before approving a report on GenX as well as addressed methyl bromide used in log fumigation.
GenX is the potentially carcinogenic chemical found in the Cape Fear River, and in hundreds of private wells surrounding the Chemours Fayetteville Works plant in Bladen County. GenX and other per- and poly-fluorinated compounds, known as PFAS, have been discharged into the Cape Fear by the DuPont spin-off company as a byproduct of manufacturing processes since at least the early 1980s.
Final approval of the science advisory board's report last week comes 11 months after its first meeting regarding GenX. The board was reconstituted and tasked in July 2017 with monitoring and advising state officials on the adverse effects of new and emerging contaminants on public health and the environment.
The state adopted the health goal of 140 parts per trillion for GenX just after the public learned in June 2017 that GenX had been found in higher concentrations in the Cape Fear River and in drinking water for Wilmington and other public utilities near the coast.
The board, which reports to the state Department of Health and Human Services and the Department of Environmental Quality, approved a draft of the 25-page report in August, leaving the provisional health goal. After approving the draft report, the board accepted written comments from the public, receiving 11, mostly from residents living near Chemours. Comments included urging the board to examine whether a mixture of GenX and other fluorinated compounds in drinking water creates a health hazard.
Little is known about the health effects of GenX on humans, but animal studies have found it to cause negatively affects the liver and blood, along with cancers of the liver, pancreas and testicles. PFAS, including GenX, persist and accumulate in the human body over time.
Although that science is limited, science board members said, they expressed confidence that the 140 parts per trillion threshold will not cause adverse health effects during a lifetime of exposure. They did recommend as part of the report that residents' concerns be taken into account and studied further.
The U.S. Environmental Protection Agency is expected to publish soon a report setting a toxicity level for GenX, said Sandy Mort, an environmental toxicologist with the DEQ. That level could influence the state's current health goal.
The board also discussed methyl bromide used in log fumigation to kill pests before logs are shipped overseas, which has become a growing industry in eastern North Carolina. The companies fumigate the logs in large cargo containers for 60 to 72 hours. Then they open those container doors releasing the methyl bromide to the atmosphere.
Methyl bromide has been banned in many countries because it has been found to deplete the ozone layer and high levels of the gas are also known to cause severe health problems in humans. DEQ regulators moved this summer to push companies using methyl bromide to "capture and control" at least 90 percent of the gas being released and asked for plans to reduce emissions.
Five companies in North Carolina are using the chemical for fumigation in Bladen, Columbus and New Hanover counties. Four more companies have applied for permits, said Mike Abraczinskas, director of the DEQ's Division of Air Quality.
The levels of methyl bromide leaving the companies' boundaries isn't known because rented monitoring equipment isn't working properly, Abraczinskas said. Scientific models show that the levels of the chemical are higher than the tighter state regulations being proposed, he said.
The Science Advisory Board has been tasked with recommending an acceptable ambient level for methyl bromide and whether to designate it as a state toxic air pollutant. The board endorsed a report on the compound but said more information is needed on occupational hazards and whether methyl bromide can cause acute problems at peak levels of release.
Written by Greg Barnes, this story is provided courtesy of North Carolina Health News, a website covering health and environmental news in North Carolina. Coastal Review Online is partnering with North Carolina Health News to provide readers with more environmental and lifestyle stories of interest about our coast.