Reprinted from The Outer Banks Voice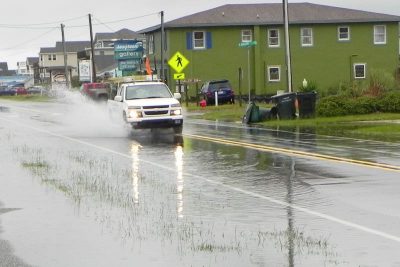 NAGS HEAD — After 5 inches of rain over the weekend on top of the previous week's deluge, Nags Head officials sought to assure visitors and property owners Wednesday morning that the town is moving as quickly as possible to attack flooding of streets and private property.
Drainage ditches overflowed and some streets were closed after the storms, but so far no serious damage has been reported.
In a statement released at Wednesday's Board of Commissioners meeting, the town described how it responded to the flooding and what it was doing to improve the stormwater drainage system.
But some residents and business owners are concerned that not enough is being done. Barbara Ayars, who lives at the corner of Memorial Avenue and Driftwood Street, told the board that properties were inches away from being flooded.
She suggested that the town create a written plan for responding to known trouble spots such as Gallery Row, where she lives.
"Our roads were two feet deep in water, and we still had people joy riding through the neighborhood, taking pictures, creating wakes, increasing flood area," she said. "There's no excuse for that."
When officers on the street saw that roads were flooding, they contacted Police Chief Kevin Brinkley, who called in reinforcements, according to the statement. Three officers, including the chief, were joined by four more.
Problems included a lightning strike that took out the traffic signal at Danube Street and U.S. 158. Barricades and no-wake signs were put up on side streets and one lane of U.S. 158 near Staples was closed.
"In Nags Head, most of the water drained away quickly, due in part to improved maintenance of the drainage system," the statement said. "Some low-lying streets and yards with no or poor drainage continued to hold water about 48 hours later. One problematic neighborhood system was boosted using a portable pump."
In addition to maintenance of the existing drainage system, the town is set to begin three impovement projects this winter after studies by an engineering consultant and a citizen committee. But future plans still depend on deliberate study of where they will do the most good and the ability of the town to pay for them, the statement said.
The plans are:
Lowering and replacing the pipe with a larger one that runs under N.C. 12 and connects to the Red Drum area ocean outfall. The town said it would increase storage of drainwater in the area and help Nags Head Pond, Nags Head Acres, the eastern part of Vista Colony and blocks 2300 to 2700 between the highways.
Lowering the groundwater level with pumping in the southeast corner of Nags Head Acres and the northeast corner of Vista Colony.
Adding pipes in the 5000 to 5300 block of Virginia Dare Trail (N.C. 12).
Ten more projects are being examined for subsequent work at a rate of three to four a year, the statement said.
This story is provided courtesy of the Outer Banks Voice, a digital newspaper covering the Outer Banks. Coastal Review Online is partnering with the Voice to provide readers with more environmental and lifestyle stories of interest about our coast.