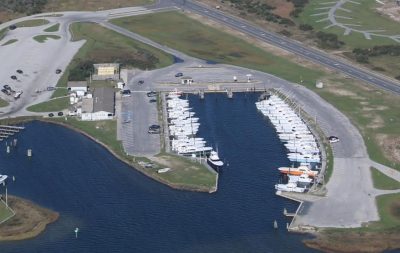 NAGS HEAD — The National Park Service is requesting proposals now through Sept. 5 from parties interested in a long-term lease of Oregon Inlet Marina at Cape Hatteras National Seashore in Nags Head.
The proposals may be submitted from June 7 to Sept. 5.
Currently operated as Oregon Inlet Fishing Center, the Oregon Inlet Marina is at 98 N.C. 12, Nags Head, just north of the Herbert C. Bonner Bridge.
The property includes a 60-slip marina; seven buildings totaling 7,369 square feet; 7.4 acres of associated land area; a 220-spot parking lot; and six vessel fuel pumps, one vehicle fuel pump and associated fuel system and storage.
The park service seeks to do the following:
Enable continued use of the property for marina slip rentals and associated services for charter fishing boats or for-hire fishing vessels, headboats, and tour boats.
Provide regular maintenance and upkeep of the marina and associated facilities.
Undertake improvements necessary to ensure that a safe, sustainable, environmentally sound and resilient marina bulkhead or equivalent shoreline stabilization project is implemented to allow for marina operations throughout the term of the lease.
Learn More