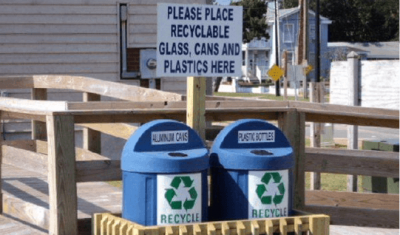 RALEIGH — Across the state, recycling numbers are up and several coastal counties top the list for total public recycling per capita recovery, according to the state's Recycling and Materials Management Section.
Coming in the top 10 are Brunswick, Dare, New Hanover and Pasquotank counties.
A part of the North Carolina Department of Environmental Quality, the Recycling and Materials Management Section, released June 8 recycling numbers for the state's 100 counties and municipalities, indicating that there was a 5.3 percent increase in paper and container recycling last year, compared to the previous year.
The section found last year that more than 1.7 million tons of traditional and non-traditional materials were collected in fiscal 2016-17. Compared to the previous year, the state recovered almost 27,000 more tons of paper and 8,000 more tons of metal. Plastics and glass tonnages remained unchanged.
"Recycling collection in North Carolina has expanded alongside increasing demand for recyclable material by in-state manufacturers," Wendy Worley, Recycling and Materials Management Section chief in the Division of Environmental Assistance and Customer Service, said in a statement. "Counties and municipalities are targeting much more than paper, cans and plastics. There are so many more materials that can be recycled, like construction debris, wood and electronics, and kept from going into the landfill. This puts value-added material back into the North Carolina economy and preserves the state's important natural resources."
The recycling and disposal data is collected annually from local governments through a reporting cycle. This information is used to profile public recycling efforts and measure the per capita recycling rates for each county in the state, according to the release. The per capita recovery rate for common household recyclables helps compare the effectiveness of residential recycling services, while total recycling measures broader community efforts.
Counties are ranked by total recycling of all materials and recycling of common household recyclables. Counties that ranked higher have implemented programs to collect non-traditional materials, like asphalt shingles, scrap metal, construction debris, electronics and wood waste. Data on the recovery of yard waste and tires is not used in the totals because it can vary widely from year to year and by region.
Coastal county rankings for total public recycling per capita recovery are the following:
6: Brunswick County
7: Dare County
9: New Hanover County
10: Pasquotank County
11: Currituck County
17: Pamlico County
22: Craven County
31: Onslow County
32: Camden County
38: Chowan County
43: Carteret County
44: Pender County
47: Perquimans County
51: Hyde County
54: Tyrrell County
68: Hertford County
75: Gates County
76: Beaufort County
95: Washington County
99: Bertie County
Learn More
For common household recyclables per capita recovery, the list is available on the DEQ website.
The 2016-17 North Carolina Division of Waste Management Consolidated Annual Report.