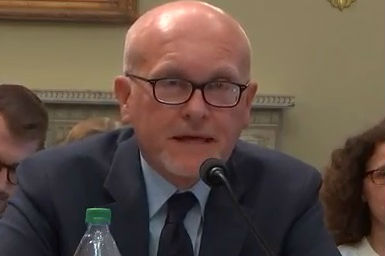 From an Outer Banks Voice report
Comparing Dare County's tourism-based economy to the Greek parable about the Sword of Damocles, Nags Head Mayor Ben Cahoon testified before a congressional committee Thursday in opposition to a draft proposal that would charge significant penalties against states that block drilling for oil and natural gas off their coasts.
"To open nearly all waters to new offshore drilling in almost 30 years, creating financial penalties for these states where coastal businesses depend on clean and healthy oceans would just establish a revenue scheme to transfer money from the states to the federal government," Cahoon said in his opening statement to the House Subcommittee on Energy and Mineral Resources.
"Creating a ransom for coastal states to protect their coastal economies, way of life and military readiness violates core conservative principles," added Cahoon, who noted he is a Republican at the start of his testimony.
The Enhancing State Management of Federal Lands and Waters Act would allow states to disapprove of offshore drilling in up to half the federal lease blocks off their coasts without a penalty.
But states that put off-limits more than half of the lease blocks would be penalized at a rate of one-tenth the amount of government revenue estimated to come from lease sales, royalties and other revenues from drilling.
Cahoon's opening statement begins at the 31:12 mark, and he answers questions at later points.
Initial calculations estimate North Carolina could have to pay more than $500 million to receive a waiver to protect its shores from offshore drilling under the draft bill, according to North Carolina Gov. Roy Cooper.
"It's inappropriate, and once again Washington is pushing its beliefs on to local citizens, instead of listening to their vehement opposition," Cahoon said.
During questioning by subcommittee co-chairman Rep. Alan Lowenthal, D-N.Y., Cahoon made reference to how the Outer Banks' single thread of a tourism-based economy holds a sword of doom overhead, despite claims of the oil and gas industry about the relative safety of modern drilling operations.
"The risk of damage may be small, but when there is a spill we have no fallback," Cahoon said. "If there's a spill, we're dead."
Cahoon also noted studies that show the effects of seismic airgun testing on marine life during his testimony. Plans for testing off the Outer Banks have been discussed for the last several years, despite unanimous opposition.
While some members of the House are pushing for the legislation, there does not appear to the same enthusiasm on the other side of Capitol Hill.
"We did learn in the Senate there is no companion bill being discussed, and it seems that this bill may go away," Cahoon told The Outer Banks Voice Thursday night.
Cahoon felt the hearing went well overall, despite not being asked about the bipartisan opposition to drilling on the local and state level, or about the potential affects on the military.
"We were prepared for questions that would have addressed the military-preparedness issues that offshore drilling could pose for the Navy," Cahoon said.
"With the promises given by Secretary Zinke to Gov. Rick Scott to exempt Florida from drilling, there's nothing that would encumber training off their coast," Cahoon said.
"Think about what it could mean if the Navy relocated those jets from (Naval Air Station Oceana) to Pensacola over training safety concerns," Cahoon said. "That economic impact would be felt across the region, including the number of people that live in Hampton Roads and come to the Outer Banks."
Coastal Review Online contributed to this report. 
This story is provided courtesy of the Outer Banks Voice, a digital newspaper covering the Outer Banks. Coastal Review Online is partnering with the Voice to provide readers with more environmental and lifestyle stories of interest about our coast.