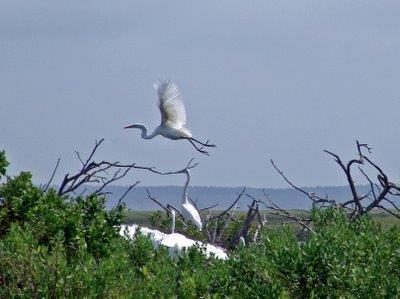 BEAUFORT — Free public field trips to explore the Rachel Carson Reserve with volunteer naturalists are being offered in June, July and August.
The reserve offers these trips every summer for visitors to explore and learn about the estuarine habitats and the coastal species that call the protected islands home.
All field trips to the Rachel Carson Reserve take place from 8:30-10:30 a.m. on Tuesdays and Thursdays. The programs are free for the public but reservations are required as boat space is limited. Reservations can be made on the reserve's website.
The reserve offers three types of field trips:
Nature hikes are during low tides, when the most amount of land is exposed on the island. Visitors should be prepared to get their shoes wet and muddy. Close-toed shoes are required because of the abundance of oysters on the island. There may also be an opportunity to wade in the water on the nature hike, so dress accordingly.
Boardwalk trips take visitors down Taylor's Creek to the reserve's boardwalk on Carrot Island. View the Rachel Carson Reserve and the town of Beaufort from the water on the reserve's 27-foot skiff.
Circumnavigation cruise on the 27-foot skiff around the reserve allows visitors a chance to view Middle Marsh after a brief stop at the boardwalk.
Dress accordingly and bring sunglasses, hats, binoculars, water and sunscreen on the trips.
For more information, call 252-220-0779. If leaving a voicemail, expect a return call from reserve staff within 24 hours.
Learn More