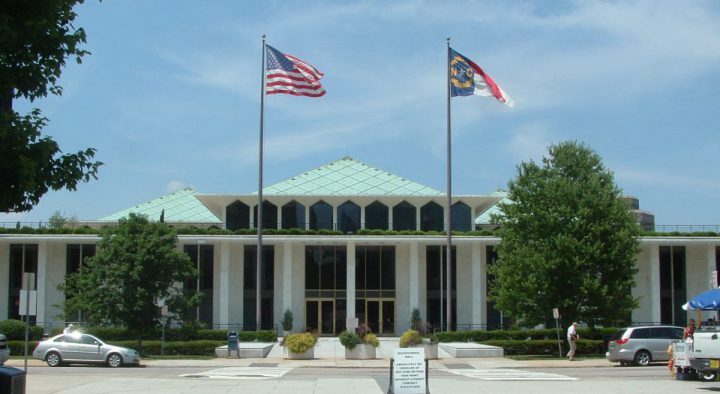 This is a developing story.
Update: House and Senate Republicans and Democrats filed competing bills Thursday with different approaches to addressing GenX and other emerging contaminants.
RALEIGH — "We're moving forward on it," Senate Rules Committee chairman Bill Rabon said Wednesday afternoon as he and Rep. Frank Iler swiftly exited a closed-door meeting between House and Senate leaders on potential new legislation addressing GenX and other chemicals in the Wilmington area's drinking water.
The two Brunswick County Republicans joined Senate leader Phil Berger, House Speaker Tim Moore and House and Senate Republican members from Cumberland and New Hanover counties in an hour-long meeting to review the latest attempt to bridge a yearlong impasse between the two chambers over legislation to respond to the issue of emerging contaminants.
The two chambers failed to find common ground on competing versions of a legislation offered by New Hanover Republicans Sen. Michael Lee and Rep. Ted Davis, chair of the House Select Committee on North Carolina River Quality.
Davis said the negotiations could wrap up as early as Thursday or Friday.
"The House and Senate have been negotiating. We're continuing to negotiate and hopefully we're going to come up with a mutually agreeable solution this week," Davis said.
House members Moore, Iler, Davis, River Quality co-chair Rep. Holly Grange, R-New Hanover, Rep. John Szoka, R-Cumberland and Rep. William Brisson, R-Bladen joined Berger, Lee and Sens. Rabon and Wesley Meredith, R-Cumberland to try and hammer out a deal.
Moore told
Coastal Review Online
that he believes a deal can be reached.
"It's a complicated topic," Moore said. "There's a lot of science to it, but what I can tell you is that everyone wants to make scientifically based policy decisions."
Moore said he believes the budget aspects of the bill can be worked out but getting the science policy questions resolved is proving more difficult.
"The policy and the debate in the scientific community is something that you can't just give a cursory review," he said. "We're talking. It might take a while, but we want to get it right."
Berger was more circumspect about whether a deal could be reached. "They're talking, that's all I can say," he said after leaving the meeting.
None of the participants offered any details about the proposal, which is expected to be announced by Lee once a deal is reached. Lee did not comment after the meeting.
Rep. Deb Butler, a Democrat and the only member of the New Hanover House delegation not appointed to the River Quality Committee, said she and several colleagues are planning to file legislation based on a proposal in Gov. Roy Cooper's budget plan, which calls for a $14.5 million emerging contaminant initiative at the Department of Environmental Quality.
Butler said she believes election worries are driving the latest attempt at legislation by the rest of the New Hanover delegation.
"All of these folks who have abysmal environmental records and whose re-election efforts are in limbo are scurrying around pretending to be environmentally concerned," Butler said in an interview. "I think you will see a bill out of people who are holding on to their seats. I don't know whether it will get a lot of traction."
In a River Quality Committee meeting last month, Davis said he was working with Senate members to determine what could pass. In February, the Senate refused to take up a House bill introduced by Davis that would have funded a request by the Department of Environmental Quality to cover testing, enforcement and new detection equipment.
Lee proposed a new version of the bill that would have channeled funding for equipment for research and detection through the North Carolina Policy Collaboratory at the University of North Carolina Chapel Hill. The House declined to take up the Senate proposal.
That bill, House Bill 189, remains viable for this session, but it's unclear whether it will be modified or a completely new bill proposed.
Learn More