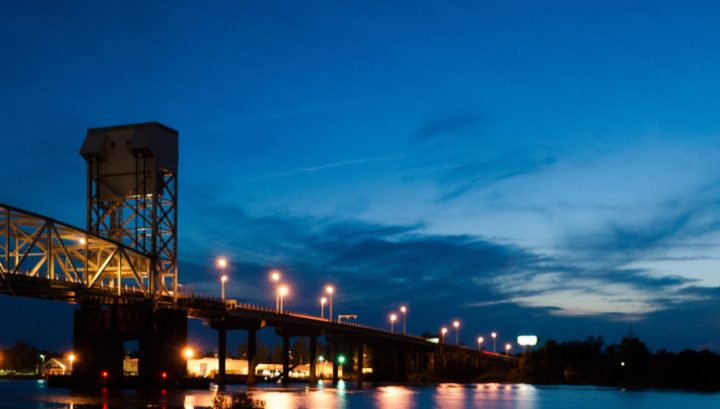 Reprinted from North Carolina Health News
RALEIGH – In a bipartisan response to outrage over contaminated drinking water, members of the North Carolina House of Representatives voted unanimously Wednesday to give state environmental regulators more money to prevent pollution.
A proposed $1.3 million fund would not be a huge boost to the state's $77 million share of the Department of Environmental Quality's budget. It would, however, be a small reversal of a seven-year trend in the General Assembly to trim state environmental protection programs.
Will it become law? Not soon, if at all, apparently.
The Senate adjourned Wednesday before the high-profile House Bill 189 even cleared the House appropriations committee, frustrating House backers.
Senate Leader Phil Berger, R-Rockingham, issued a statement sent to reporters Wednesday evening signaling that he opposes the bill.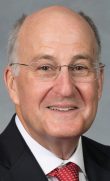 But hopes were higher earlier Wednesday afternoon when Rep. Ted Davis, R-New Hanover, led a successful effort to convince all House members present to invest more money in DEQ.
The money would buy an instrument that can detect unregulated chemicals in state waters. Additionally, the money would provide staff to both operate it and attack a sizable backlog of DEQ waste disposal permit applications.
While making the sell, Davis and others stressed that the funding was likely the first step of a more elaborate government response needed to detect the compound GenX and other chemicals of concern in the Cape Fear River basin and around the state.
"We are moving forward on something that we were able to get the stakeholders to agree on as much as possible," said Davis, whose House Select Committee on North Carolina River Quality endorsed taking action after four meetings digging into GenX contamination beginning in September.
Latest Twist in the GenX Saga
Detection of GenX pollution in and near the Cape Fear River has expanded over seven months, starting with disclosure last summer that the hard-to-break-down chemical was tainting municipal drinking water supplies in Wilmington and neighboring Brunswick and Pender counties.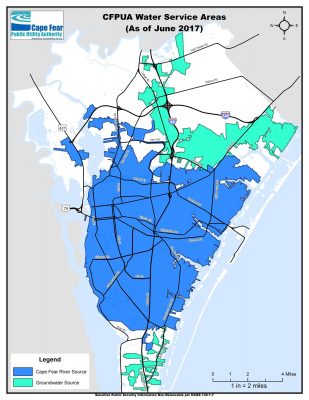 Since then the compound and related perfluorinated compounds have been detected in increasing numbers of household wells near where the chemicals have been released, a Chemours-owned chemical plant compound in Bladen County. Evidence is increasing, too, that some of the pollution may have been released into the air.
Decades ago, DuPont built and ran the chemical plant that now produces GenX. Chemours, a DuPont spinoff, took over in 2015. Chemours asserts that its waste poses no health risks.
The Environmental Protection Agency is investigating whether the company violated a consent agreement sharply restricting GenX's release into water. After Chemours failed to disclose a leak, DEQ in November announced it would revoke the company's permit allowing wastewater discharge into the Cape Fear.
Evidence of unwelcome chemical contamination, created by likely carcinogen 1,4 dioxane and other compounds, has been found elsewhere in North Carolina, too. House members supporting the DEQ funding said that more aggressive, long-term protections against water pollution are needed.
DEQ Secretary Michael Regan, appeared briefly before the House appropriations committee Wednesday to support the bill. He argued that preventing chemical pollution is good for business as well as the protection of natural resources.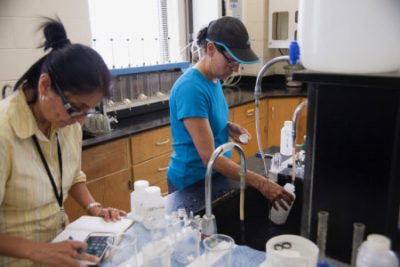 "This is a much-needed first step in longer term conversation we need to have with this body pertaining to protecting our environment and our economy," he said.
The House bill would allow DEQ to purchase a high-resolution mass spectrometer, which can detect very small amounts of chemicals in water. DEQ has depended on an EPA lab in Research Triangle Park, as well as testing paid for Chemours to measure GenX levels in water samples. But the EPA has its own projects and cannot continue to provide that service, Assistant Secretary Sheila Holman said Wednesday.
The bill would give Gov. Roy Cooper's administration only a portion of the requested $2.5 million for funding to prevent water pollution. The General Assembly did not grant that request last summer. During Wednesday's appropriations committee, Democratic House members failed to win approval of an amendment that would have funneled money to the state Department of Health and Human Services as well.
Rare Bipartisan Support
After the amendment failed, supporter Rep. Pricey Harrison, D-Guilford, told fellow lawmakers she was disappointed. But she also stressed that she was grateful to Davis and other Republican leaders of the House river quality committee for digging into the GenX contamination problem so diligently and backing House Bill 189.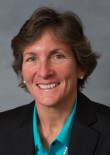 "I never sat in a committee that had such substantial discussions as we have had," said Harrison, a leading advocate of expanding environmental regulation.
House Bill 189 includes other initiatives requiring no funding, some of which will occur whether the bill passes because DEQ has launched them, Holman said.
The bill would require the following:
Department of Health and Human Services staff to consult with DEQ's Science Advisory Board when developing health goals for contaminant exposure levels.
DEQ staff to assess how well the agency runs a federally required permitting program that decides how much pollution industrial waste companies can discharge into streams, rivers and lakes.
DEQ staff to review existing reporting and notice requirements related to discharging pollutants released into the environment.
Another measure would instruct the School of Government at University of North Carolina Chapel Hill to assess when water utilities have any legal liability for distributing contaminated drinking water.
Michael Brown, chairman of the Cape Fear Public Utility Authority in Wilmington, said he supports the bill and appreciates the bipartisan action Wednesday in the House. But he said he sees no uncertainty about the liability issue.
"The liability here is clear. It is with the dischargers and what they are putting in the river," said Brown, whose utility has filed just one of many lawsuits pending against Chemours and DuPont over the pollution.
Not Just A Lovefest
In written comments opposing the bill, Berger noted that Senate Republicans already appropriated money to improve water quality in the Cape Fear River in 2017 by funding research and utility projects intended to remove GenX from drinking water. The Senate is waiting on data that was expected in October to decide any next steps, he said.
"What the House passed today, unfortunately, does nothing to prevent GenX from going into the water supply," Berger said in the statement sent to reporters.
"It leaves North Carolina taxpayers holding the bag for expenditures that should be paid for by the company responsible for the pollution, fails to give DEQ authority to do anything they can't already do, and authorizes the purchase of expensive equipment that the state can already access for free," he said.
Gov. Cooper saw it differently. He issued a statement Wednesday sharply criticizing the General Assembly, clumping together his frustration over its failure to pass environmental and educational bills he supports.
"Today, legislative Republicans walked out on students, teachers and families concerned about overcrowded classrooms and safe drinking water," Cooper said in the written statement. "When legislators return home today, North Carolinians in their communities should demand they take action."
Taylor Knopf, who covers rural and mental health news for North Carolina Health News, contributed to this report.
This story is provided courtesy of North Carolina Health News, an online news service covering health and environmental issues in North Carolina. Coastal Review Online is partnering with North Carolina Health News to provide readers with more stories of interest on the coast.