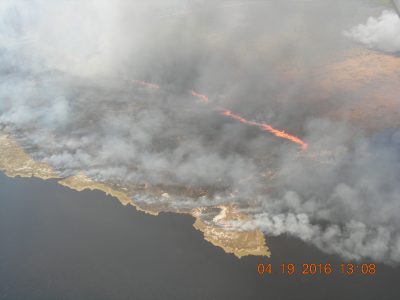 OUTER BANKS — An effort to educate residents on the risks of wildfires is taking place this month.
Cape Hatteras National Seashore, North Carolina Forest Service, North Carolina Coastal Reserve and the Fish and Wildlife Service will hold wildfire risks educational meetings in communities that share a border with Cape Hatteras National Seashore.
Staff from each agency, including National Parks of Eastern North Carolina Superintendent David Hallac, will be on hand to discuss the risks of wildfires, steps to prevent or minimize damages from wildfires, advantages of maintaining fire boundaries, how fire boundaries are created and information on becoming a Firewise community.
Meeting dates and locations are the following:
Ocracoke Community Center, 999 Irvin Garrish Highway, Ocracoke, 

2-3:30 p.m. 

Monday, April 16.

Dare County Administration Building, Room 238, 954 Marshall Collins Drive, 6-7:30 p.m. 

Wednesday, April 18.

Nags Head Town Hall, community meeting room, 5401 S. Croatan Highway, Nags Head, 6-7:30 p.m. 

Thursday, April 19.

Cape Hatteras Secondary School, 48576 N.C. 12, Buxton, 6-7:30 p.m. 

Monday, April 23.

Kill Devil Hills Fire Department, training room, 1634 N. Croatan Highway, Kill Devil Hills, 6-7:30 p.m. 

Thursday, April 26.
Learn More