CARTERET COUNTY – Residents here worried that a proposed roadway project outside of Morehead City that they say would threaten natural resources and disrupt a quiet unincorporated community now have county commissioners in their corner.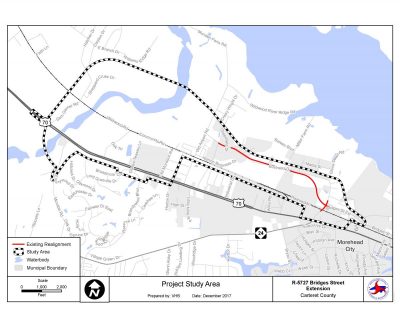 The Carteret County Board of Commissioners approved on Monday a resolution stating that the preferred route for the proposed Bridges Street Extension project connect to Old Murdoch Road, thereby minimizing perceived effects on the Wildwood Community.
Wildwood residents said the Old Murdoch Road option, of the routes being considered, is the least damaging alternative to the community, the environment and the least costly option to the taxpayers. Commissioners voted unanimously on the resolution added to the consent agenda during the board's monthly meeting in Beaufort.
The proposed $44.2 million Bridges Street Extension, Project No. R-5727, would extend the current Bridges Street Extension about 3 miles and includes widening the roadway along Business Drive to Old Airport Road, then travel westward on new location to connect to U.S. 70 in the vicinity of McCabe Road.
Wildwood residents opposed to routing the roadway through their community have asked the North Carolina Department of Transportation to consider the commissioners' action and requested an extension of the public comment period for the project. That period expired Feb. 12.
Learn More