WASHINGTON, D.C. — Congressman Walter B. Jones has asked the Army Corps of Engineers to evaluate all possible outcomes of its proposal to move the Morehead City Port channel 700 feet west, away from Shackleford Banks and toward Atlantic Beach, the Carteret County News-Times reported.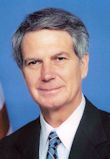 Jones wrote that he "fully support(s) the Corps' mission to maintain the channel and support navigation" in a Nov. 28 letter to Col. Robert Clark of the Army Corps of Engineers Wilmington District Office. Jones added that he also understood the Corps' proposal to shift the navigation channel away from Shackleford Banks with the hope to reduce dredging needs and ease navigation.
"While I support these goals, I share concerns that the Corps has not evaluated potential impacts to the adjacent beaches and Fort Macon State Park," Jones continued in the letter. He urged the Corps to fully investigate any ramifications of moving the western boundary of the channel, including effects on adjacent beaches, before going ahead.
Greg Rudolph, manager of the Carteret County Shore Protection office, raised issue with the proposed boundary move last month.
He wrote a letter to the Corps asking that measures be taken to ensure the move won't result in serious erosion of the eastern end of Bogue Banks. Rudolph also requested that the Corps prepare a full environmental impact statement or a mitigated finding of no significant impact before moving forward.
Rudolph said the issue dates back to when the eastern end of Shackleford Banks began rapidly eroding into the port channel about a decade ago. The type of dredging now required has become more costly and as a result the Corps is looking for ways to reduce the amount of dredging needed to keep the port open. However, he added, the steps to do that should not come at the cost of erosion at Fort Macon and Atlantic Beach.
Learn More