WASHINGTON, D.C.  –  Rep. Walter Jones, R-N.C., announced Wednesday that he had reintroduced a bill to change 30-year-old federal mapping that Jones and others say "incorrectly" placed much of North Topsail Beach off-limits to federal money for development and disaster assistance, including the National Flood Insurance Program.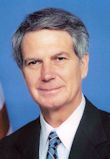 In 1982, the Coastal Barrier Resources Act, or CBRA, was enacted to discourage development of hurricane-prone and biologically rich U.S. coastal areas. Jones and North Topsail Beach officials have long maintained that the U.S. Fish and Wildlife Service's mappers in the early 1980s incorrectly classified more than 6,000 acres at the north end of Topsail Island as "undeveloped."
While the area was largely undeveloped at the time, the designation was made years after the causeway linking North Topsail Beach to the mainland was built in the 1960s and county roads, water, sewer and power were provided to the north end.
Jones' bill would direct the Secretary of Interior to revise the CBRA map for North Topsail Beach.
"North Topsail Beach has provided extensive documentation to show that in 1982, the area was already under development," Jones said in a statement.  "As a matter of fairness, it is time to correct this error."
The bill was referred to the House Natural Resources Committee.
North Carolina Republican Sens. Thom Tillis and Richard Burr have introduced a similar bill in the Senate.