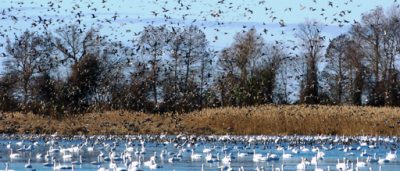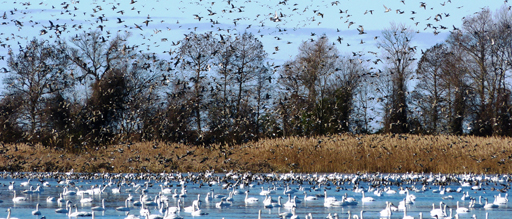 LAKE MATTAMUSKEET —  The Swan Days Festival set for Dec. 9 at the Lake Mattamuskeet National Wildlife Refuge celebrates the return of the Alaskan tundra swan to the refuge, as well as the historic heritage of the Mattamuskeet Lodge, according to the event's website.
In addition to the swans, thousands of snow geese, Canada geese, and more than 20 species of ducks spend the winter months at Lake Mattamuskeet.
Lake Mattamuskeet National Wildlife Refuge is hosting a variety of free programs the second weekend in December to celebrate the return of tundra swans and other wildlife to the area, including guided bird tours by tram of rarely seen areas of the refuge.
The tram tours to be held Dec. 9 through the refuge are by reservation only. Reservations will begin being accepted starting at 8 a.m. Nov. 20. No early reservations will be accepted. Space is limited and seats fill up quickly. Call the office at 252-926-4021 to make reservations or learn more. Organizers advise attendees to dress for the weather and bring a camera.
During Swan Days, visitors can learn about the history of Civilian Conservation Corps Co. 424, Lake Mattamuskeet and the Native Americans who were indigenous to the area, according to the Swan Days website. Visitors can also see exotic bird exhibits by Sylvan Heights Bird Park, and get up close and personal with birds of prey, courtesy of Steve Hoddy of EarthQuest. There will also be nature exhibits, educational activities, food vendors, craftspeople, local artists, and more.
The North Carolina Estuarium also will be on hand with an exhibit of flora and fauna from their estuarine museum collection.
"Our station will feature hands-on educational activities designed to teach, entertain, and challenge the expert in every crowd,"Russ Chesson of the Estuarium staff said in a statement.
Attendees might win a prize in a round of bird call bingo or gain a new perspective at the magnification station. There may even be a visit from Cornelius, the Estuarium's Spokes Snake, which is actually a harmless corn snake. For more information, call 252-926-4021.
Learn More