ATLANTIC – The Navy is asking area residents to allow sampling of drinking water to test for certain compounds in wells near the Marine Corps' outlying landing field here.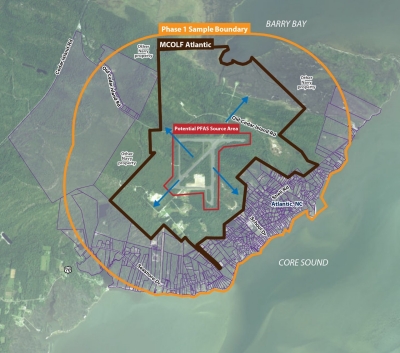 An open house meeting to answer questions from the public is set for 4-7 p.m. Nov. 8 at Atlantic Elementary, 151 School Drive, Atlantic.
Marine Corps Outlying Landing Field Atlantic in Carteret County has been in operation since 1942 as an active training site for Marine Corps Air Station Cherry Point. Equipment testing, training, and firefighting activities that use a compound known as aqueous film forming foam, or AFFF, may have been conducted at the field. Some AFFFs contain per- and poly-fluoroalkyl substances, commonly known as PFAS, that may be present in the soil and/or groundwater as a result of historical activities at Atlantic Field.
Navy officials said there is no historical documentation that indicates AFFF was used, disposed of, or stored at MCOLF Atlantic. But "in an abundance of caution," the Navy is conducting drinking water sampling for certain PFAS in drinking water wells in the vicinity.
Drinking water sampling is set to begin Nov. 13. Preliminary results are expected in about two weeks of sampling.
Residents who have received a request from the Navy to sample their drinking water should call 1-877-626-5317 and leave a message with the following information:
Your name
The physical address of the property to be sampled
Your contact phone number(s)
A representative from the Navy will contact you to set up a drinking water sampling appointment for your property.
A homeowner questionnaire has been developed to document pertinent information about private drinking water wells.
Learn More