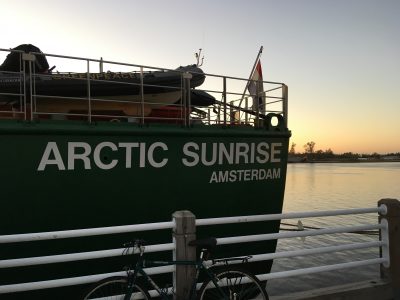 WILMINGTON – The Arctic Sunrise, a Greenpeace ship, passed through here this week as a part of an East Coast tour meant to raise awareness about offshore oil drilling and seismic testing.
More than 600 people took advantage of free tours of the ship Saturday and the crew hosted a variety of other events. The tour that started in New York and will end in Puerto Rico is also meant to offer scientists assistance in researching our coastal habitats.
"We wanted to try to stop in places on the East Coast that are hubs in their area," said Cassady Craighill, media officer for Greenpeace USA. Wilmington was one of those, a place where there is already a lot of environmental awareness, and an access point for learning more about mid-Atlantic ecosystems.
One team from California-based Scripps Institution of Oceanography deployed acoustic monitoring equipment to study how marine life, especially little-known beaked whales, react to ocean noise. Also, a team of three from the Undersea Vehicles Program at the University of North Carolina Wilmington's Center for Marine Science are taking a remotely operated vehicle this week to explore the Snowy Grouper Wreck Marine Protected Area off the coast of Hatteras Island.
The Whale Acoustics Laboratory at Scripps first placed equipment on the sea floor off the Hatteras coast in 2012. But Bruce Thayre, a computer resource specialist, added sensors that will help researchers recreate three-dimensional movement patterns of marine animals. Beaked whales are of special interest. Not much is known about this widespread families of cetaceans.
"They can be difficult to research because they dive deep," Thayre said. But this type of equipment is an ideal way to learn more about them, he said, because it passively sits on the bottom of the ocean and can collect data when these whales are close. "This is vital research for this species."
The equipment works much the same way that our ears can determine from which direction sound is coming, he said. Using multiple sensors on the equipment can create a more complete picture of how these whales, and other animals, move.
They'll also be measuring levels of natural and man-made underwater noise to establish a baseline for year-round marine mammal presence and dive behavior, said Josh Jones, who is also working on the project with Scripps. "We can look at how they behave under normal conditions and how that changes when there's added ocean noise," he said. This could be important in learning more about how seismic blasting may affect marine mammals if the Atlantic Ocean opens for oil and gas development.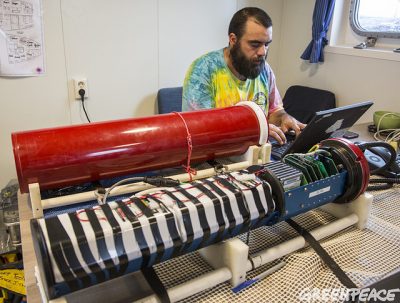 Researching underwater habitats is also the goal of the Undersea Vehicles Program, which is a part of the oceanographic operations support division at the Center for Marine Science. Their remotely operated vehicles, or ROVs, can be deployed quickly and can generate geo-referenced high-definition video and photography, said Jason White, an operations field manager. In this case, the ROV is exploring the Snowy Grouper Wreck Marine Protected Area and, with the help of an archeologist, may be able to identify the shipwreck.
"We hope to get some good footage of this area, that's about 400 feet down," White said.
As for Greenpeace, the focus of this East Coast tour is "Protecting our Coasts, Climate and Communities." The ship was in Wilmington, docked at Pier 33 downtown, from Oct. 26 through Monday. Among the events planned was an onboard environmental film screening, a "kayak-tivism" workshop, and a "Sweat it Out to Get the Oil Out," event with a DJ and fitness trainer.
Greenpeace's Mary Sweeters and Nakisa Glover helped organize the events to draw a wide variety of people and get them interested in ocean issues. The tour also includes stops in Norfolk, Virginia, and Miami, before it plans to deliver supplies to rural communities in Puerto Rico effected by Hurricane Maria.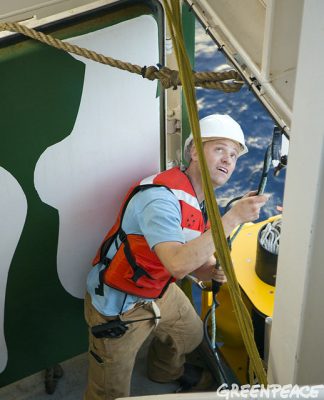 After that, the Arctic Sunrise will prepare for a trip to Antarctica, Craighill said. "This is an icebreaker," she said. "The only one in the fleet." The rounded hull is meant to slam down on ice in its path, but that same design can make traveling in rougher seas uncomfortable.
The Greenpeace ship has a rich history. The Russian government seized the ship and the 30 activists and journalists onboard in 2013, when Greenpeace protested Arctic oil drilling by the Russian company Gazprom, she said. The Arctic Sunrise was the first ship to circumnavigate James Ross Island in the Antarctic. It's also worked to stop Japanese whaling fleets, chased private vessels fishing illegally, navigated both the Congo and the Amazon and performed independent assessment of the BP Deepwater Horizon oil spill in the Gulf of Mexico, according to the organization.
"It's been a part of a lot of the iconic Greenpeace work," Craighill said.
The organization has two other ships in the fleet. The Rainbow Warrior was made especially for Greenpeace and is considered one of the most environmentally friendly ships made. The Esperanza is the largest vessel in the fleet.
Doing tours such as this one is a way for people to get a more hands-on understanding of what Greenpeace is doing, Craighill said. "It's always great to see the reaction from people. We're now getting multiple generations of families who come to see the ship."
Learn More