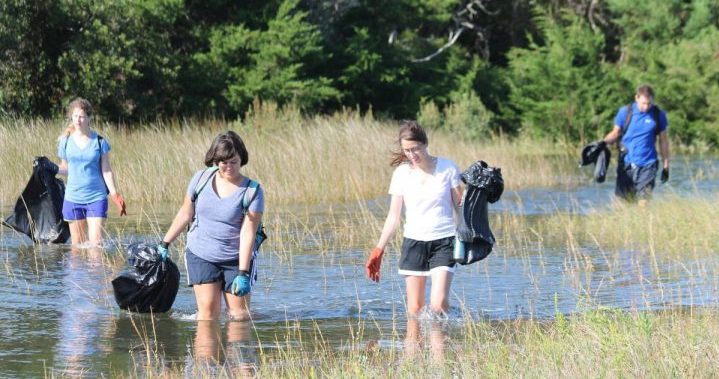 BEAUFORT – If the town is approved for a National Oceanic and Atmospheric Administration marine debris removal grant in the spring, they'll have nearly $70,000 to put toward the effort of cleaning up Taylor's Creek and adjacent waters.
At the board of commissioners work session Oct. 30 in the train depot, the board unanimously approved applying for the grant, which was presented by Paula Gillikin with the North Carolina Division of Coastal Management, North Carolina Coastal Reserve and North Carolina Estuarine Research Reserve. Gillikin manages the Rachel Carson Reserve, which is across Taylor's Creek from downtown Beaufort.
Stakeholders first met in early October to discuss the details for this NOAA marine debris removal grant to clean up Taylor's Creek. Discussion also focused on what organization has jurisdiction to remove sunken vessels and illegal moorings, which is any mooring that does not have a current Coastal Area Management Act permit, and the possibility of developing a harbor management plan. At that meeting, stakeholders were told that in Taylor's Creek, there were 39 moorings and a range of sizable debris, included a handful of sunken vessels, more than a dozen abandoned moorings without markings and a few large sections of drainage pipe.
Throughout the years, as Gillikin explained to the board, town staff and about a dozen members of the public during the work session, there have been a number of concerns about the condition of and debris in Taylor's Creek and the debris that lands on the habitat on Rachel Carson Reserve, which is an outdoor laboratory and classroom, and a storm barrier for the town.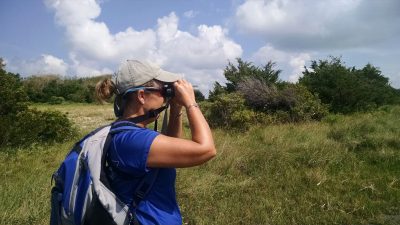 "When we get a lot of debris, it can cause some habitat damage; killing marshes, causing erosion, releasing toxins, entangling wildlife and a bunch of other effects," she said. "We've been working for the past 10 years, diligently, to try to address the issue, mostly through marine debris removal projects. And since that time, we've removed about 35,000 pounds of debris just with volunteers from the site, so we've demonstrated a real issue."
The reserve has been working with the town in varying capacities over the years on different environmental management plans and the town is on the local advisory committee. Gillikin said she approached the town manager to work together on the grant proposal, with hopes of receiving the town board's support to submit the grant application, which was due Nov. 1.
"In a nutshell, it is a marine debris removal grant for the Taylor's Creek and Beaufort Harbor area, so waters within the Rachel Carson Reserve boundary and also outside the Rachel Carson Reserve boundary," she said.
"This debris grant is targeted at medium and large items, that's what NOAA wants to see removed, not just little shoreline debris but big things like sunken vessels, abandoned moorings that might tangle up animals, other large objects on the bottom that are submerged and also sitting in our marshes or anything that might wash up between now and then," she explained. "So just estimating the amount of debris we have out there, and based on our past experience, it looks like we could probably remove about 46,000 pounds of debris from the bottom of Taylor's Creek and our local marshes."
Regarding funding, Gillikin said, "NOAA requires a one to one match, we've got a very favorable proposal here because we have a one to 1.6 match."
"If you look at your updated budget, you'll see that we're asking NOAA for about $67,000 in cash and the match would be about $4,000 in cash. The rest of that match would be in-kind services, mostly provided by the town, the reserve, TowBoat US Beaufort, and also the BoatUS Foundation."
The project would span the course of a year, Gillikin concluded.
Commissioner Ann Carter asked if a year would take care of the initial phase and would the town need a follow-up phase.
"I think one year will put a dent in it, but this is going to be an ongoing thing, NOAA encourages ongoing, sustainable projects," Gillikin explained, adding that this will probably be a multi-year project that can be continued with funding from the town, other sources or re-apply to the NOAA marine debris project again. "I think it will put a big dent in our debris issue but I think we have to follow up with more debris removal and a plan to manage the harbor better."
Jerry Gaskill, who was at the meeting representing Beaufort Yacht Basin, asked if the grant would help with Town Creek's overwhelming debris issue. The yacht basin is on Town Creek.
Gillikin agreed that Town Creek is a problem area but the grant would not include cleaning up Town Creek. Gillikin continued that one reason they started in the Rachel Carson Reserve area is because it's part of the National Estuarine Research Reserve system, called a NOAA Trust Resource, which will bolster the project's points on the NOAA marine debris grant proposal.
If Beaufort receives the grant to clean up Taylor's Creek and does that project well, then the town would be well positioned for future NOAA grants to clean up other Beaufort waters such as Town Creek.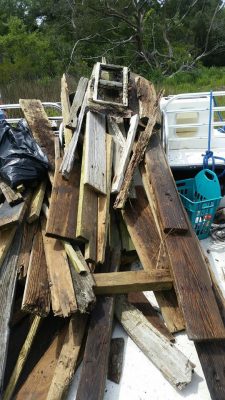 Commissioner Sharon Harker asked whether Gillikin thought the town was in a strong position to receive the grant.
Gillikin answered that she believed Beaufort was in a strong position, "because not only does this involve debris removal, it involved education, community engagement and BoatUS Foundation will make a documentary about this, documenting the methodology, the problem, interviewing the children participating in debris cleanup along the shoreline that would be safe to pick up … we're going to have a lot of education."
She added that this information will be integrated into all of the reserve's education programs, so if anybody comes onto the reserve to one of the programs, they will have the opportunity to learn about the grant project. "There's going to be a lot of education and outreach."
John Day, the town manager, said he's pleased to have the board's support on the grant proposal, and the larger effort to begin the process of developing a management plan for Taylor's Creek.
"Also, I'm very grateful for the efforts of Paula Gillikin and her staff for preparing the grant proposal and being our partner," he added.
Gillikin explained later in an interview that the next steps are for the grant proposal to be submitted, which the town mailed Nov. 1 and NOAA is expected to release its decision in spring 2018. If the grant is funded, the earliest the project would start would be around August 2018.
She went into further detail regarding the documentary films that she mentioned during the meeting.
"The BoatUS Foundation for Boating Safety and Clean Water is going to produce two (films). One is included in the cash grant funds, the other is being donated as an in-kind product," she said. "We haven't decided the exact content of the films, yet. But, one will showcase project operations and goals and outcomes, the problem of marine debris both locally and on a broader scale, and the importance of estuarine habitats and debris impacts on them."
Learn More