Susan White, executive director of North Carolina Sea Grant and the state's Water Resources Research Institute, was recently named the new director for North Carolina Space Grant, after having served as interim director since February.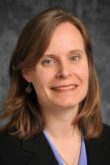 All three statewide programs have headquarters at North Carolina State University.
"Dr. White brings a wealth of experience in leading federal/state programs that are recognized as trusted partners in developing innovative research and outreach applications within North Carolina and across the nation," Alan Rebar, NC State's vice chancellor for research, innovation and economic development, said in a statement.
N.C. Space Grant, which receives funding from the National Aeronautics and Space Administration, is a consortium of 13 academic institutions to develop and support aeronautics and space-related science, engineering and technology education and training statewide. Partners include industry, nonprofit organizations and state agencies.
"This is an exciting time for North Carolina Space Grant," said White, a previous member of the consortium's advisory council. "In particular, I am eager to leverage its vibrant programs — including strong partnerships with industry — to equip the current and future workforce."
Sea Grant receives funding from the National Oceanic and Atmospheric Administration, while the Water Resources Research Institute is funded by the U.S. Geological Survey. Those programs support targeted research, outreach and education projects to address critical issues.
Space Grant and Sea Grant already co-sponsor graduate research fellowships that fund research within North Carolina's nearshore environs and coastal watersheds, by utilizing relevant measurement instruments and data from NASA and NOAA.
All three applied-research programs also reach into community colleges, K-12 schools and informal educational institutions, such as museums, observatories and marine centers. This year, Space Grant outreach events related to the total solar eclipse tallied than 100,000 people.
White previously was director of NOAA's Hollings Marine Laboratory in Charleston, South Carolina. Formerly the national research coordinator for NOAA's Estuarine Reserves Division and National Estuarine Research Reserve System, she has served on national and regional steering committees on topics including technology transfer, integrated drought monitoring and early warning, and climate's connections to health.
She earned a doctorate from the University of Georgia and a bachelor's degree from Duke University.
Learn More