BLADEN COUNTY – A partial consent order approved late Friday between the state and Chemours that requires the company that produces the compound GenX to continue to prevent its discharge into the Cape Fear River and stop the release of two other compounds of concern, the Wilmington StarNews reported.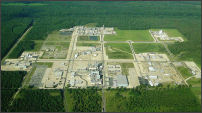 GenX is one of several compounds identified earlier this year in the Wilmington area's public drinking water supply.
The order approved Friday threatens suspension of Chemours' wastewater discharge permit unless discharges of the other compounds, known as Nafion byproducts 1 and 2, are not ceased. The complaint alleged that Chemours had known that the Nafion byproducts were being discharged into the river but didn't tell regulators.
The company faces fines as much as $25,000 related to a notice of violation the state filed last week after groundwater samples taken at its Fayetteville Works site indicated that the company had violated state groundwater rules. All but one of the 14 samples showed GenX concentrations higher than allowed.
The order also forces Chemours to provide to the state Department of Environmental Quality proprietary information once a confidentiality agreement is reached.
The action came following an afternoon of confidential negotiations and during a hearing presided over by Bladen County Superior Court Judge Douglas Sasser.
Learn More