KILL DEVIL HILLS – Federal agencies are re-evaluating sea turtle activities off part of the Outer Banks after large numbers of the marine animals have had to be moved out of the way of an ongoing beach re-nourishment project.
"We have relocated more turtles prior to and during the dredging process than previously anticipated," Stephen Boutwell, spokesman for the Bureau of Ocean Energy Management, said in an email. "All relocated turtles were released in good condition."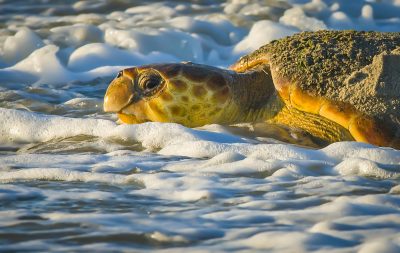 Since the late May start of the re-nourishment project in Duck, the northernmost town on Dare County's Outer Banks, a total of 66 turtles as of last week had been safely scooped up by trawlers that clear the area in front of the working dredge to prevent incidental capture. Most were loggerheads, which are listed as threatened under the federal Endangered Species Act. There were also some Kemp's ridley and leatherbacks – both listed as endangered.
In what is called a lethal take, one loggerhead was killed when it was caught in a dredge drag head, the part that includes the "teeth" for cutting into the bottom and water jet nozzles. When a turtle is relocated unharmed, it is counted as a nonlethal take. Under the ESA, the definition of a take ranges from harassment to capture and to killing, or from minor harmless encounters to intentional slaughter.
According to information provided by Matthew Godfrey, sea turtle biologist with the North Carolina Wildlife Resources Commission, the relocated turtles were a mix of juveniles and adults. Two of them were females that had been tagged on a beach in Trinidad, and an adult female that had been tagged in 2005 at Cape Lookout.
Contractors Great Lakes Dredge and Dock Co. and APTIM/Coastal Planning & Engineering, which finished widening 1.7 miles of Duck beaches in June, recently completed nourishing 2.5 miles in the Kill Devil Hills portion. Work soon will start on 2.5 miles of beach in Kitty Hawk and 2,500 feet in Southern Shores, with an expected project completion in mid-October.  Contractors have had to work in the summer months, when turtles are nesting, because of dangerous offshore conditions in the winter.
The sand source for the beach replenishment is in offshore federal waters, which means the project required coordination between federal agencies BOEM, NOAA Fisheries and the U.S Fish and Wildlife Service, the administrator of the Endangered Species Act.  As part of that process, BOEM consulted with Fisheries about project-related effects on sea turtles that are protected under the ESA.
It became apparent early in the project that lots more turtles were in the ocean than the number estimated by Fisheries, which had the responsibility under the Endangered Species Act of conducting an analysis known as a biological opinion.
"This was due in part to an unexpected influx of cannonball jellyfish, which is known to be prey for leatherback sea turtles," Allison Garrett, spokeswoman for NOAA Fisheries, said in an email.
Within the first three days of the project, she said, BOEM realized there were large numbers of turtles in the area, and immediately restarted consultation with the fisheries service to get a new analysis.
No delays or interruption in the project are expected, based on the agencies' determination that continuation of the dredging and trawling relocation operations would not jeopardize the existence of the species. The contractors, meanwhile, are obliged to follow the terms and conditions of the original biological opinion.
The initial biological opinion, BOEM's Boutwell explained, authorized injurious and non-injurious takes of sea turtles, incidental to project operations.
"Based on the limited available data in the area," he said, (NOAA Fisheries) did not anticipate that sea turtles would be in such abundance."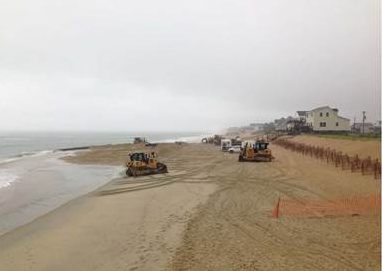 As of mid-July, Garrett wrote, "the number of sea turtles relocated outside of the dredging area during required relocation trawling have exceeded predictions in the original biological opinion and a new biological opinion is being written" to update the number of nonlethal takes in relocation trawling. The lethal takes, she added, have not exceeded predictions in the original opinion.
But Dennis Pohl, president of the nonprofit Network for Endangered Sea Turtles, or NEST, on the Outer Banks, said in a telephone interview that he is skeptical that the trawling operation is as benign as it sounds.
"I'm wondering – who made the decision that everything is honky-dory on this?" he asked. "I really don't know. I'm not a scientist. I'm not a biologist. But I can't believe there's no repercussions from taking these turtles."
Pohl said he understands that beach re-nourishment will remain a fact of life in communities with eroding beaches. He just wants to make sure that, in the process, everything possible is done to ensure the well-being of sea turtles.
"Seeing these reports for incidental capture concerns me," he said. "If it doesn't affect them – fine. (Agencies) say they're not. But what's that based on?"
Relocation trawling is required to begin no later than 24 hours in advance of hopper dredging at the offshore site where sand is collected, and must continue simultaneous with dredging, according to the project contract. Turtles captured by the trawl are photographed, measured, biopsied and tagged by NOAA Fisheries-approved observers and then relocated at least 3 nautical miles away.
Tow times, when the vessel is capable of trapping turtles, are strictly limited to 42 minutes and the trawl speed cannot exceed 3.5 knots. While captured, the turtles must be kept moist and as shaded as possible. They may be held for as long as 24 hours if there is an opportunity for satellite tagging or other biological data gathering. The information collected from the tags is expected to provide invaluable data that will be helpful in future offshore projects.
"Having retrieved 65 turtles so far, this is an opportunity that we welcome," said Marjorie Weisskohl, a BOEM spokeswoman. "Because the more we know about marine life, the better we can oversee the operation and put in place measures to protect the species."
Despite having to contend with so many sea turtles, contractors also see an upside in the robust population of the protected marine animals.
"The number of turtles that were anticipated to be relocated by National Marine Fisheries Service for this project was based on historical estimates from other projects in the region," Julien Devisse, a project manager for contractor Coastal Planning & Engineering of North Carolina, said in an email.  "Although our project has exceeded the anticipated number of relocations, we see this is a very positive reflection of the health of the species. The fact that we are encountering far more animals than historical numbers suggested is a good thing."
Learn More