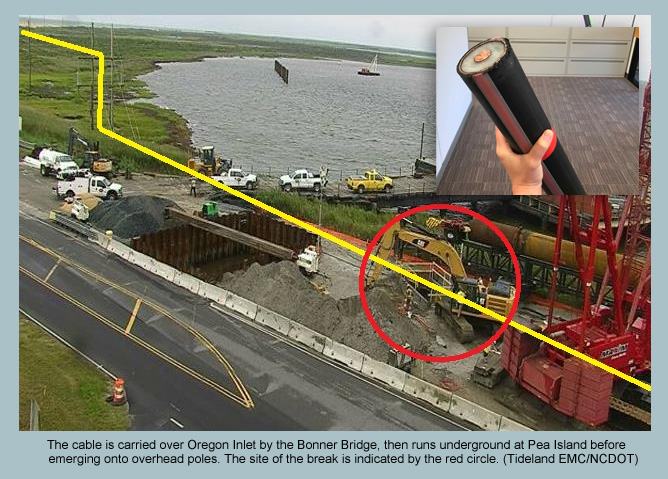 Reprinted from The Outer Banks Voice
OUTER BANKS — As Gov. Roy Cooper checked the damage and offered assurances that every effort was being made to restore power, more details emerged Monday on how the only source of electricity to Hatteras and Ocracoke islands was severed in a construction accident last week.
Crews at the south end of the Bonner Bridge over Oregon Inlet were able to locate the last of three underground cables Monday afternoon and were working to expose it so final repairs could begin.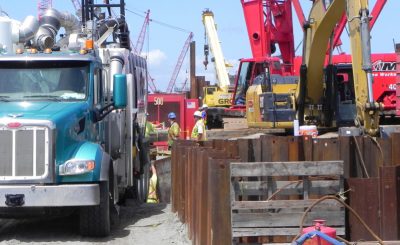 One cable was spliced back together overnight after losing a two-foot section. A third first thought to be damaged was later found to be intact and functional.
Cooper said he and his administration have offered the Cape Hatteras Electric Cooperative "all the resources that they need to get power back to these islands as quickly and as safely as possible."
"Clearly when you're talking about the economy of the Outer Banks, summertime is a great time for people to make their money and this situation has hurt," he said. "So every day is important to the economy of this part of our state."
The cooperative said today that it could be one or two weeks before full power is restored. But the company is trying to beef up its temporary generator system in hopes of allowing a staged return of visitors.
In the meantime, mandatory evacuations remain in place, which means visitors are not allowed onto the islands to get to their rental homes.
The power went out at 4:30 a.m. Thursday when the company building the Bonner Bridge replacement over Oregon Inlet drove a steel casing into the transmission system.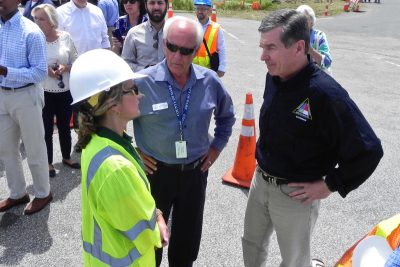 Casings are giant tubes that position individual concrete pilings as they are being installed in clusters at various angles to hold up the bridge deck, said Jerry Jennings, District 1 engineer for the North Carolina Department of Transportation. Workers were setting aside the casing for future use by driving it partially into the ground.
Susan Flythe, executive vice president and general manager of CHEC, said it was not long before they realized the problem.
"As they drove that casing down into the ground, they heard a pop," she said.
 Power is delivered by three cables because electrical transmission employs a three-phase system to keep the power stable and flowing economically. All three are needed to make it work.
Thousands of people are waiting to hear whether their vacation plans can be salvaged, but no projection for when power might be sufficient is
available yet. In a typical summer week, 50,000 to 60,000 people vacation on the island, according to Dare County Public Relations Director Dorothy Hester.
Ocracoke is running on three portable generators, and there is no word yet about the possibility of producing enough temporary power to allow visitors back in.
But in a statement Sunday, CHEC said it was working "to expand the temporary generation service on Hatteras Island, in order to accommodate a staged re-entry of visitors."
On Sunday, the cooperative said testing showed that all three of the cables in the system were damaged when the contractor for the Bonner Bridge replacement project, PLC Construction, drove a steel casing into them. But on Monday, the cooperative said that one of the cables was intact and functional.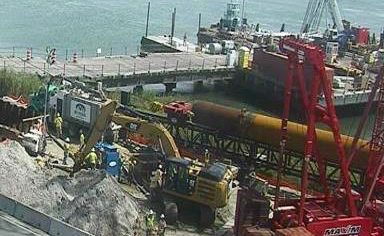 Two ideas for repairs are in play, the cooperative said. One is to splice the damaged cable back together, now that all three wires have been located. One was fixed Monday, and repairs will start as soon as possible on the second.
The second idea is to connect a new power line to the south end of the Bonner Bridge and run it overhead south on the east side of N.C. 12, then over to existing poles on the west side, Flythe said.
Now, the existing lines are carried over Oregon Inlet by the bridge, then run underground before emerging onto the power poles south of the inlet. The transmission system will eventually be moved to the new bridge.
"CHEC will actively pursue both of these solutions until it is clear which of these will provide the fastest and safest option for a full repair," the statement said.
"Depending on which solution turns out to be the most practical, the timeline for a complete repair could vary from one to two weeks."
A makeshift system of portable generators and a permanent diesel backup system in Buxton is now providing minimal power to Hatteras Island.
This story is provided courtesy of the Outer Banks Voice, a digital newspaper covering the Outer Banks. Coastal Review Online is partnering with the Voice to provide readers with more environmental and lifestyle stories of interest about our coast. You can read other stories about the Outer Banks here.