HATTERAS VILLAGE — Cape Hatteras Electric Cooperative discovered Sunday night that only two of the three underground transmission cables sustained damage at the Bonner Bridge incident site, Tideland EMC announced Monday.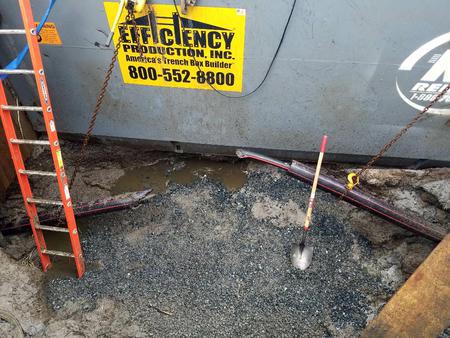 It was initially believed that all three underground cables were damaged early Thursday morning when PCL Construction, the contractors building the new Bonner Bridge, drove a steel casing through the cooperative's transmission cables, causing Hatteras and Ocracoke islands to lose power. The timeline for a complete repair ranges from one to two weeks.
Workers are attempting two solutions simultaneously, one underground and one overhead. The underground solution is to attempt to reach and splice the second damaged cable. Splicing on the first damaged cable is complete.
Efforts began early today on the second solution, which is to build a new overhead transmission line that will run from the south end of the Bonner Bridge to meet the cooperative's existing overhead transmission line.
Tideland EMC members on Ocracoke island who rely on the CHEC transmission line for service are operating on diesel generators that have so far been able to handle the much-reduced island load following a mandatory evacuation of non-residents that went into effect Thursday night. Mandatory evacuation orders for Ocracoke and Hatteras islands are still in place.
Power is currently being provided on Ocracoke Island by three emergency mobile generators that arrived on the island on Thursday and Friday. The occasional maintenance outage is to be expected from time to time but the goal is to keep them brief. At this time Tideland EMC is not operating on a rotating service schedule and all circuits are energized, the organization announced.
Tideland EMC is now allowing island residents to utilize air conditioning and water heating but may request that those loads be restricted once again depending on daily outdoor temperatures, generator reliability and utility load.