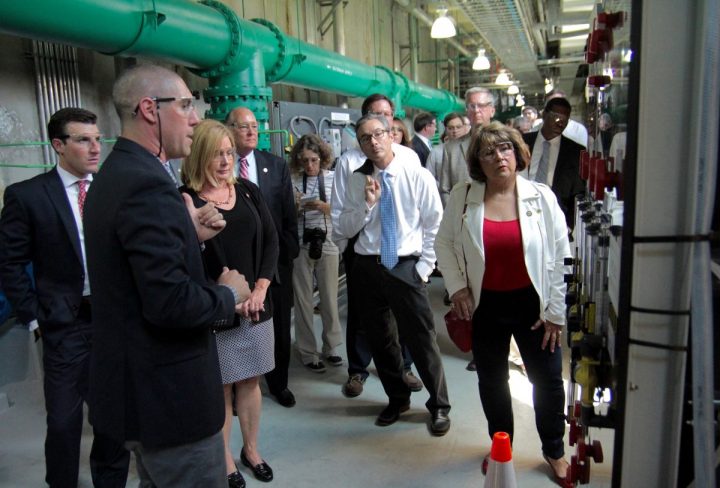 Co-published with North Carolina Health News
WILMINGTON — A House and Senate environmental oversight committee toured a water plant here, heard a heated debate between the local delegation and got an earful from worried residents as the legislature considers next steps in dealing with the state's worst water contamination crisis since the February 2014 coal ash spill in the Dan River.
Although the community's continued anguish over the chemical GenX was again present and sometimes vividly presented Wednesday during a public hearing, this was the first opportunity for a legislative committee to hear directly about the contaminant. Stories relating fears for loved ones and lingering doubts about the region's drinking water supply came from both colleagues and the public at large.
"The presence of GenX and all the possible pollutants in the Cape Fear River have caused me to have serious concern about the quality of drinking water," Rep. Ted Davis, R-New Hanover said.
Sen. Mike Lee, R-New Hanover, said when news first broke that he and his wife, like many of his constituents, wondered if the contamination played a role in their son's health problems. Lee called for quick action by the commission.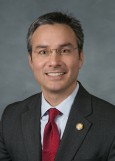 "We need an action plan today," he said. "I think that's what people in this area, this Cape Fear watershed, drinking the water every day want. They want action."
Concern about the safety of the water supply, which serves roughly 300,000 residents of New Hanover, Brunswick and Pender counties, has grown rapidly since an analysis of the presence of polyfluorinated per- and polyfluoroalkyl compounds (known collectively as PFASs) in the Cape Fear River released in June revealed that conventional water treatment methods failed to remove the contaminants from the drinking water supply.
PFASs make up a category of tough substances used in many common products such as non-stick cooking pans, stain-resistant carpets, waterproof clothing and food packing.
Unlike the like Dan River coal ash spill, which released a massive plume of ash and contaminated water from a Duke Energy storage pond, the contamination of the Cape Fear River with GenX and other compounds has been a slow-motion crisis with a substance that persists in the environment.
Although the extent of the contamination was only recently detailed, GenX, or something like it, has been discharged since the 1980s from a Bladen County plant first operated by DuPont and since 2015 by Chemours, the company created in 2015 when DuPont spun off its performance chemicals unit.
Although different cases, the responses to both coal ash and GenX have taken a similar, two-prong approach: finding an immediate way to stop the contamination while studying past mistakes and new research to develop policies and practices to prevent it from happening again.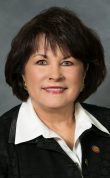 "How did that permit get through? That to me is a huge question," said Rep. Pat McElraft, R-Carteret, Wednesday after the Wilmington meeting of the legislature's Environmental Review Commission. McElraft said there needs to be a thorough review of how Chemours was granted a permit to discharge GenX into the river, but right now, she said, the public wants to see solutions.
It's not just a matter of stopping the discharge, which Chemours did voluntarily in June, she said, but doing something to remove contaminants that have built up in the river over time.
"We've stopped it now. We don't want it to start again and now we've got to find out some way to clean their water from all the residues," McElraft said. "It's going to be in the water for a while."
Commission members toured the Cape Fear Public Utility Authority's Sweeney Water Treatment Plant and reviewed new equipment installed to test the filtering process. The utility is looking at both reverse osmosis and granulated activated carbon filtering to remove GenX and other related compounds from the water.
In testimony before the commission, Larry Cahoon, a University of North Carolina Wilmington professor of marine biology who specializes in aquatic ecology, said finding a way to remove the contaminants on an ongoing basis is critical given that deposits in the river are likely to continue to be a source.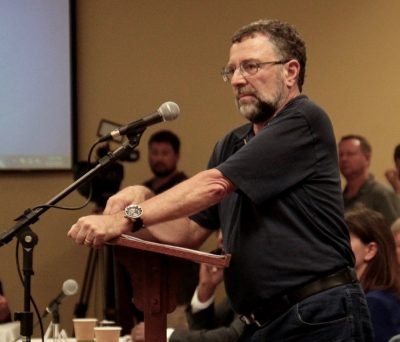 Cahoon said the issue goes beyond just GenX, which he stressed is an industry-created term, and detailed findings on worrisome presence of related compounds, some in higher concentrations than GenX. The effects on human health of the other, so-called, "emerging contaminants" are even less known.
"We're not talking about a single compound here. Let's be clear about that," Cahoon said. "The permitting of the discharge of GenX ignores the fact, one way or the another, that we are talking about a host of compounds."
During questioning by commission members, Cahoon said he believes that the company violated its permit and the Clean Water Act because it failed to disclose those additional compounds as required.
Commission members subsequently pressed Department of Environmental Quality Secretary Michael Regan on his department's investigation, asking why DEQ had yet to issue a formal notice to the company that it is in violation of its permit.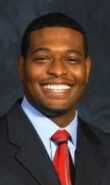 Regan replied that the department was trying to make sure it had first completed its investigation, saying it was important DEQ "get it right," given the legal implications of any action.
Representatives of Chemours declined an invitation from the commission to give a statement at the hearing.
Molly Diggins, executive director for the North Carolina Sierra Club, said that when a department is as understaffed and underfunded (as DEQ) it can't do the necessary oversight that prevents a GenX or coal ash contamination from happening.
"DEQ doesn't even have sufficient staffing to address expired permits," she said. "What confidence can the public have that water quality is being watched out for? If DEQ doesn't have inspectors, what confidence does the public have?"
Money and Politics
While investigations and the search for solutions continue, the political battle over GenX continues to heat up.
During the hearing, both Regan and Department of Health and Human Services Secretary Mandy Cohen continued to urge lawmakers to pass a $2.8 million emergency funding package to cover the costs for more testing and analysis as well as monitoring for signs of contamination. Asked by Sen. Brent Jackson, R-Sampson, one of the Senate's chief budget writers, how more money for staff would make a difference, Regan responded with President Ronald Reagan's adage of "trust but verify," saying extra monitoring is important, especially given the public's concerns about Chemours' record of disclosure.
Regan said the department's resources, already stretched due to budget cutbacks and continued demand for coal ash response, still has a backlog of permits. He noted that Chemours was operating with an expired permit when the contamination study was released and that, at present, about 40 percent of the discharge permits issued by the state are expired.
Sen. Lee, who said he is working on a strategy document, told the commission he thinks emergency funding should be focused locally. Lee called for the ERC to adopt a strategy that would provide an additional boost of funding for the Cape Fear Public Utility Authority and cover additional testing and research by UNC-Wilmington experts.
Davis also agreed that the authority should play a lead role going forward.
But Rep. Deb Butler, D-New Hanover, encouraged the commission to back the administration's plan, saying the utility authority should not be allowed to do its own oversight and that Lee's effort lacks the transparency necessary to win back the community's trust.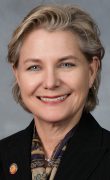 Butler, who was the first to raise the GenX issue in the North Carolina General Assembly in June when she called for a rollback of DEQ budget cuts during the state budget debate, said initial bipartisan support for a plan announced by Gov. Roy Cooper in July seemed to quickly evaporate.
"Here I am today again asking you to honor the governor's reasonable, specific request for help, the pleas of this community for help. It is $2.5 million in $23 billion budget that has a rainy-day fund," she said. "It's raining in Wilmington and we need that appropriation. These agencies need the resources to put teeth behind these permits."
Cooper, who made his third GenX-related trip to the region Thursday when he toured the Brunswick County water treatment plant, continues to press for the appropriation.
"This is not a problem we created, but it is one that we've taken swift action to fix," Cooper's spokesperson Ford Porter said in a statement released Wednesday following the commission hearing. "Protecting families' drinking water should be a top priority, and it's disappointing that the committee didn't take up the legislative request to strengthen water quality given the strong public support that was displayed for it."
During the hearing, Environmental Review Commission Chair Sen. Trudy Wade, R-Guilford, said she didn't expect the commission to take up the funding request during the current weeklong redistricting session. Wade said any funding request would likely be considered in September.
The commission did approve a motion by Rep. Chris Millis, R-Pender, based partly on Lee's request, to have commission staff begin work on an action plan coordinating with the utility authority, local governments, DEQ and DHHS.
Learn More