RALEIGH – The U.S. Attorney's Office has subpoenaed the North Carolina Department of Environmental Quality for records related to Chemours Co.'s permits to discharge the compound known as GenX into the Cape Fear River.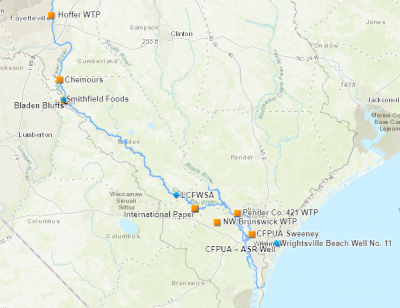 Also, the drinking water utility serving the Wilmington area has announced plans to sue the company and its parent company, DuPont, in federal court.
DEQ said Thursday staff were gathering documents for the federal government's investigation into Chemours, the company that manufactures the unregulated compound GenX at its Fayetteville facility.
The U.S. Attorney's Office for the Eastern District of North Carolina issued a subpoena to DEQ on July 28. The subpoena requests that by Aug. 22 DEQ provide to a grand jury in Wilmington records and documents, including permits, environmental compliance information, reports, emails, research and notes, related to the Chemours' Fayetteville Works facility, GenX and other fluorinated chemicals.
"DEQ will provide all relevant records about Chemours as part of this ongoing federal investigation," said Jamie Kritzer, DEQ spokesman. "We are pleased that federal authorities are taking this matter seriously as we continue our own investigation into Chemours and the issues surrounding GenX and the other unregulated chemical compounds."
In June, Gov. Roy Cooper directed DEQ and the N.C. Department of Health and Human Services to launch an investigation into Chemours' discharge of GenX. Then last week, Cooper directed the State Bureau of Investigation's Diversion and Environmental Crimes Unit to assess whether a criminal investigation is warranted in this case.
Cooper and his administration were successful in getting Chemours to stop the release of GenX. Since then, the levels of GenX in finished drinking water from the Cape Fear River continue to be below the state's public health goal and have been trending downward. DEQ continues to sample and test the water frequently to monitor levels of GenX.
On Monday, Cooper announced the expansion of a state science panel to help guide state officials on ways to better protect public health and the environment from new or unregulated chemicals such as GenX.
Meanwhile, the Cape Fear Public Utility Authority, which provides water to New Hanover County and Wilmington city residents, announced Thursday it intends to sue Chemours and its parent company Dupont in federal court to enforce requirements of the Clean Water Act and the Resource Conservation and Recovery Act. One of the authority's water supply intakes is on the Cape Fear River in Bladen County, downstream of the Fayetteville Works facility.
The complaint will allege that Chemours is in continuing violation of an "effluent standard or limitation" under the Clean Water Act and the companies are contributing, "to the past or present handling, storage, treatment, transportation, or disposal of any solid or hazardous waste which may present an imminent and substantial endangerment to health or the environment" in violation of Resource Conservation and Recovery Act.
The Fayetteville Works facility has been since 1980 generating and discharging a substance or group of substances now identified as GenX as a byproduct of its manufacturing process.