RALEIGH – The heads of the state departments of Health and Human Services and Environmental Quality have responded to members of the North Carolina Senate who had questioned Gov. Roy Cooper and his administration's handling of the GenX contamination of the Cape Fear River and Cooper's request for $2.6 million for related water quality monitoring and health studies.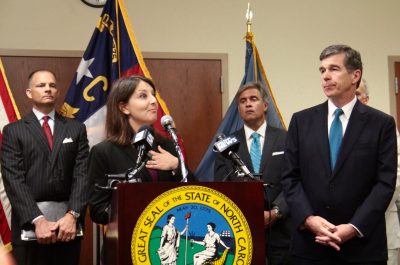 The Department of Health and Human Services' Secretary Mandy Cohen and the Department of Environmental Quality's Secretary Michael Regan responded Monday to the letter dated Aug. 9 from seven state senators who had suggested that Cooper's actions on GenX were simply public relations efforts. The senators who signed the letter included coastal legislators Sen. Bill Cook, R-Beaufort; Sen. Mike Lee, R-New Hanover; Sen. Bill Rabon, R-Brunswick; and Sen. Norm Sanderson, R-Pamlico. The letter was also signed by the co-chairs of the Senate Appropriations Subcommittee on Agriculture, Natural, and Economic Resources, Sen. Rick Gunn, R-Alamance and Sen. Trudy Wade, R-Guilford.
In their response, Cohen and Regan outlined their departments' needs for an emergency appropriation to fund more scientists, medical experts, engineers and inspectors and for long-term testing to monitor for the presence of GenX and other emerging chemical compounds in the Cape Fear River and other inland waterways that are drinking water sources.
"We are ready to engage in a productive dialogue about these topics and are available to meet in person to share more information with you about our request for expedited funding and personnel," Cohen and Regan's letter states. "We are glad you are reviewing the effect of legislative budget cuts, both past and current."
The scope and urgent nature of the presence of these compounds in the river requires a response larger than the departments have resources to provide, while continuing to meet the day-to-day operational requirements, according to the letter.
The response notes that since 2013, DEQ had seen cuts of about 70 positions that supported the permitting, compliance and enforcement programs. The requested appropriation would allow DEQ to fund positions to help protect water quality and cover the expense of tests monitoring the presence of emerging contaminants in waterways statewide and would also allow DHHS to create a Water Health and Safety Unit to enhance the state's understanding of and response to unregulated compounds in drinking water.
Learn More