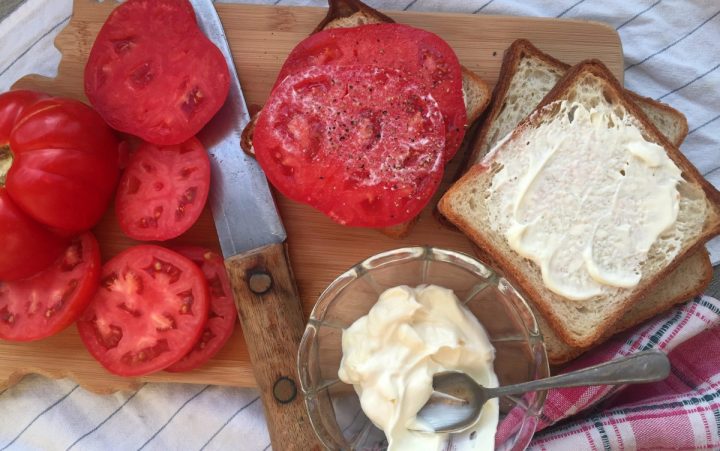 Among the sacred foods you never, ever mess with down South, tomato sandwiches rank at the top. Mention any adulteration to the simple formula of mayonnaise, salt, black pepper, supermarket white bread and red, homegrown tomatoes sliced not a second before they're ripe and you're bound to be looked at like you just shouted "YOU all."
No one will touch your carefully crafted carrot cake at the neighborhood social. Somehow, you'll be bypassed when the ribs and tenderloin come off the cooker at the next pig pickin'. Friends may even act like they didn't see you when you wave "hi" in the Piggly Wiggly parking lot.
Everyone has an opinion about tomato sandwiches, right down to the brand of mayonnaise that should be used. If you say Duke's, someone else will say Hellmann's, although no one will say Miracle Whip. That's the one generally agreed upon ultimate blasphemy. When Charlotte Observer food writer Kathleen Purvis wrote about tomato sandwiches in 2009, a firestorm followed, the most "online comments, e-mails and phone calls than almost any food story I've written," Purvis said in her follow-up column.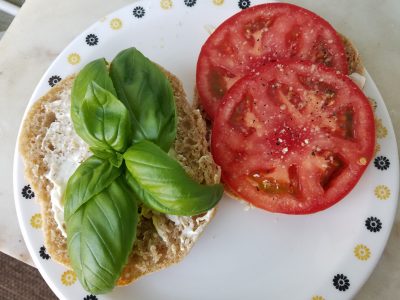 Tomato sandwiches are so popular during summer in North Carolina that they could be the official state food of July and August. Tar Heels' annual anticipation for tomato sandwich season moved the North Carolina Department of Agriculture to give away free tomato sandwiches at two of its Greenhouse Vegetable Days in April, two months before the correct field tomatoes would ripen.
Some communities build entire meals around the tomato sandwich. In her book "Dallas, North Carolina: A Brief History," author Kitty Thornburg Heller notes that "Even the North Carolina state legislature and some churches serve 'tomato sandwich suppers' during summer." The Garden of Concord in Graham hosts one. Charlotte real estate brokers throw a tomato sandwich party that has grown into a must-do event, if you can score an invitation. Merritt's Store & Grill, operating since 1929 in Chapel Hill, still serves a classic tomato sandwich, just $3.15.
As fiercely loyal as Carolinians are to the tomato sandwich, you would think it was invented here, or at least down South, but no one knows for sure if it was a New Jersey, North Carolina or some other state's tomato that first landed between mayonnaise-smeared white bread.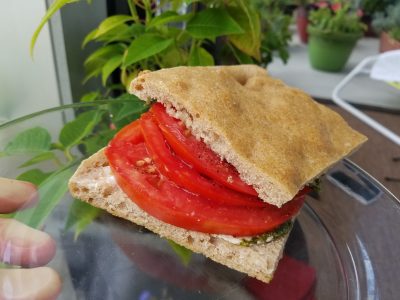 Some Carolina plantations were growing tomatoes in mid-1700s, but the plants were likely test runs of the tiny things explorers found Aztecs eating in what is now Mexico. A viable, tasty field tomato did not appear in America, Ohio to be exact, until the late 1800s.
Commercial jarred mayonnaise emerged in Philadelphia in 1907. Mass-produced white bread hit its stride not long after. Tomato sandwich recipes were in print by the early 20th century, too, not that you need much instruction, although a 2014 CNN story did devote nearly 800 words to how to make a proper tomato sandwich.
I've made a lot of tomato sandwiches "the right way." I'm craving one right now, but, as is the case many times when the tomato sandwich urge hits, I don't have exactly what I need to prepare the stack. Rather than dismiss my yearning, I'll use whatever I have on hand to get some sort of tomato sandwich flavor in my mouth. Oftentimes, I'm eating in the garden, my tomato sandwich balanced so that it's juices run down my arm and onto the ground instead of my lap. It's those times that a nearby basil plant broadcasts its aroma and I think, "Hmm. Maybe I'll just keep that carrot cake for myself."
Lay large, fresh basil leaves on a tomato sandwich. If you grow lettuce leaf basil even better.
Marinate sliced tomatoes in balsamic vinaigrette for 30 minutes before putting them in the sandwich.
Try flaky sea salt or seasoned salts instead of plain table salt. Consider smoked sea salt, French Fleur de Sel, rosemary salt or garlic salt.
Sprinkle on red pepper flakes, chili powder or chipotle powder instead of or in addition to freshly cracked black pepper.
Sprinkle 2 tablespoons of parmesan cheese over the tomatoes on the sandwich, lay the open-faced sandwich half on a baking sheet and broil until the cheese is bubbly. Remove from oven and lay the other piece of bread on top.
Make a mayonnaise-heavy pimento cheese and use it instead of mayonnaise.
Build a tomato sandwich on a biscuit the same circumference of your tomato slices. Cheddar biscuits are even better.
Use sturdy sourdough or whole-wheat bread and stack the tomatoes high, Dagwood style, with pesto or avocado mayonnaise in between each slice. Serve with a fork and a knife, just in case.
Sprinkle fresh, sweet corn kernels just cut from the cob onto the sandwich.
Make or purchase a huge focaccia bread. Toast each cut side on the grill and then spread on mayonnaise. Place the bottom half of the focaccia, crust side down, on a large, wooden cutting board. Lay a variety of different-colored, thickly sliced tomatoes on the focaccia to completely cover. Drizzle with homemade ranch or green goddess dressing, salt and freshly cracked pepper. Sprinkle with chopped herbs (basil, chives, parsley). Lay the top half of the grilled focaccia over the tomatoes. Press bread lightly. Let sandwich sit for 10-15 minutes. Use a long serrated knife to cut into squares for guests at the table.