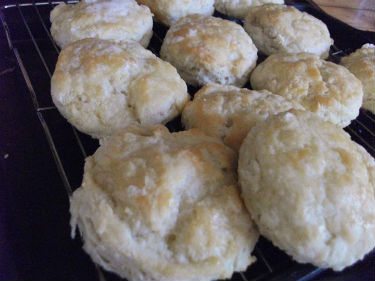 This is part a monthly series about the food of the N.C. coast. Our Coast's Food is about the culinary traditions and history of N.C. coast. The series covers the history of the region's food, profiles the people who grow it and cook it, offers cooking tips — how hot should the oil be to fry fish? — and passes along some of our favorite recipes. Send along any ideas for stories you would like us to do or regional recipes you'd like to share. If there's a story behind the recipe, we'd love to hear it.
MOREHEAD CITY — Morning, noon, night or snack, a day in the Old South hardly passed without at least one biscuit.
Today, North Carolinians sit down at New South tables where biscuits no longer land at every meal, but a warm biscuit, golden buttery around a soft center, shaped by a loving cook's hand, remains a much-desired serving of tenderhearted Southern hospitality.
"It's how we define supper in the South," professional baker and native coastal North Carolinian Mindy Ballou Fitzpatrick said. "When you have biscuits at supper, it gets people to come to the table and to sit down, and it gets them into conversations."
Fitzpatrick hails from a long line of cooks who inspired her to launch Mindy's Baked Goods, part of The Friendly Market local food, art and plant emporium her and husband, Matt, operate in Morehead City.
Fitzpatrick's grandfather, William "Bill" Ballou, was a charismatic charter boat captain who in 1941 converted a downtown Morehead City fish house into Capt. Bill's Waterfront Restaurant, still in operation, under different owners, and still famous for its "Down East Lemon Pie."
Biscuits were the purview of Fitzpatrick's mother, Betty Ballou, whose recipes inspire much of the cooking at Mindy's Baked Goods and The Friendly Market.
"They were part of everything I did growing up just about," Fitzpatrick said of biscuits. "They define a lot of who we (Southerners) are."
The word "biscuit" traces to Latin words "bis" (twice) and "coctus" (cooked). In Europe, the word usually refers to cookies. As American breads developed, the word biscuit took on a different meaning in the South.
Historians say the idea for biscuits came with early European settlers to the New World. Dishes that could be made with ground wheat, water and some sort of savory gravy were simple sustenance pilgrims lacking established kitchens needed.
Mindy Ballou Fitzpatrick says there's nothing like biscuits to get people to the dinner table and into conversations. Photo: Liz Biro
Also, soft wheat grew best in the South. Low-protein flour made from soft wheat produces the tender crumb mandatory for perfect biscuits. Biscuit recipes often call for bleached, all-purpose flour, cold fats, cold liquids and light mixing, all instructions suggested to keep proteins from banding together. Those bound proteins create gluten strands that make French breads and pizza crusts deliciously chewy but cause tough biscuits.
Risen biscuits showed up as early as the late 1700s, when pearl ash from fires was used as a leavener, Southern food historian John Edgerton wrote in Southern Food: At Home, On the Road, In History (Alfred A. Knopf, 1987).
The American definition of "biscuit" was first noted in John Palmer's 1818 Journal of Travels in the United States of North America, and in Lower Canada, according to The Food Timeline. By 1828, Webster defined biscuits as "a composition of flour and butter, made and baked in private families," The Food Timeline reported.
Commercial baking soda and baking powder arrived in the mid-1800s, Edgerton found, but Southern cooks prepared more than risen biscuits. Beaten biscuits sans leavener appear true American creations connected with the mid-Atlantic and southern Appalachian regions.
"Long before soda and baking powder and yeast transformed the American biscuit into a soft and puffy bread, these queer, little, unleavened, hard biscuits had somehow found their way from parts unknown to the kitchens of the colonial South," Edgerton wrote.
"Now just as mysteriously, beaten biscuits have all but disappeared."
Edgerton noted their demise might have been due to the considerable time cooks spent beating or kneading air into the dough to make those biscuits light and fluffy. One old recipe calls for beating the biscuits at least 100 times, unless company was coming. Then, the biscuits would have been beaten many more times to ensure guests dined on the very best.
A dough-kneading machine patented in 1877 in New Jersey saved beaten biscuits from extinction, and they remained popular, especially for the upper South's ham biscuits, which still show up in Virginia and North Carolina, Edgerton found.
For the most part, whether biscuits are beaten or risen, biscuit-making has almost become a lost art that many restaurant and home cooks seem happy to leave to processed food companies supplying frozen biscuits or pre-blended biscuit mix — just add liquid and stir.
Conduct a side-by-side tasting of a from-scratch biscuit and a prefabricated one, and you'll likely find that favorite, supposedly "homemade" fast food sausage biscuit is lacking.
"To me, the perfect biscuit is very, very light, fluffy, not too tall," Fitzpatrick said. "I like when you open a biscuit and it has the little crevices where you can spread butter, and it kind of goes down and becomes part of the biscuit."
Biscuits are not difficult to prepare. They're worth the effort, especially in spring when North Carolina's fresh berry season begins with strawberries and moves into blackberries and blueberries, perfect for classic shortcake. As summer arrives, fresh peaches replace berries.
No matter if biscuits are savory to serve alongside fried chicken or a little sweet to layer with fresh fruit and whipped cream for shortcake, the recipe is simple.
An easy biscuit formula starts with 2 cups of self-rising, unbleached, all-purpose flour and ¼ to ½ cup of lard or butter. Blend about 1 to 2 tablespoons of sugar into the flour if you're making a sweet biscuit for shortbread.
Using a pastry cutter, cut the fat into the flour until the mixture resembles cornmeal. Lightly stir in about a cup of cold milk or buttermilk.
Flour a board and gently roll out the dough, using an ultra-light touch so as not incorporate much more flour. Maintain a light dusting and touch to prevent sticky dough. As an alternate to rolling, flour your hands, pick up pieces of the dough and form them into disks about ¾-inch thick.
Either way, always handle gently. Overworking the dough leads to hard biscuits. If the dough seems too sticky, and you don't want to risk rolling or handling, make what are called "drop biscuits," which Fitzpatrick said was her mother's preference for shortcake. Drop heaping tablespoonfuls of dough onto a pan.
Bake biscuits in a hot oven, 400 to 450 degrees, for 10-15 minutes.
Biscuit recipes are usually not exact. Humidity, the type of baking pan used (sheet or cast-iron skillet), the fat chosen, whether cooks prefer milk, buttermilk or high-fat cream and the brand of flour selected all affect the process and results. Those are not reasons to be intimated but rather to test what works best for individual cooks' tastes, Fitzpatrick said.
"The first thing to do is not worry about the outcome," she said.
"To me that the best part of being in the kitchen is falling into recipes you never expected and just discovering," Fitzpatrick added. "Biscuits are fun."
If biscuits come out hard or ugly, no worries. Put them on a plate and smother them with sausage gravy, a fSouthern specialty loved at breakfast and fine for dinner.
"The one thing about biscuits is they're good at every meal," Fitzpatrick said. "Everybody will come and eat biscuits."