CHAPEL HILL — Jeffrey Warren, longtime science adviser to Senate President Pro Tem Phil Berger, R-Rockingham, has been named research director at the new North Carolina Policy Collaboratory at the University of North Carolina.
Warren's job will be to coordinate the center's research and report to the North Carolina General Assembly.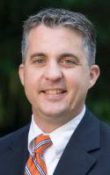 The controversial policy center was set up through a provision in last year's budget bill to be a direct route for research to policymakers. University faculty initially complained that the legislature had overstepped its role in creating the collaboratory, or collaborative laboratory, and that it may not be subject to independent academic oversight, but some of those earlier concerns were tempered after the appointment of an advisory board composed of a number of the university's top scientists, overseen by the university provost.
Although the university announced that it had conducted a nationwide search, it had been widely rumored that the position was created specifically for Warren. Requirements listed in the university's posted job description specified a minimum five years experience in working with the North Carolina General Assembly on environmental issues.
Warren had also previously held state positions in both the Division of Marine Fisheries and the Department of environmental Quality, in addition to his private-sector experience. He has a bachelor's degree in Geosciences at the University of Arizona, and has advanced degrees from Auburn and UNC-Chapel Hill in related subjects.
Brad Ives, who also serves as the university's vice chancellor for campus enterprises and its chief sustainability officer, was named in February as the center's director. Ives had previously served as the collaboratory's interim director.
Learn More