The North Carolina Department of Public Safety announced Thursday that N.C.'s death toll from Hurricane Matthew had risen to 22, and Gov. McCrory urged caution at a press conference Thrusday afternoon as the Neuse and Tar rivers continue to rise.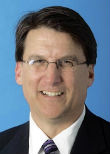 "Stay away from the water not only to save your life, but don't even put your hand or feet in it because the water is most likely not safe to touch," he said.
McCrory added that at least 19 of deaths were due to drowning. The state reported that more than 2,300 rescues had been performed since waters began to rise in Hurricane Matthew's wake.
The press briefing was held in Kinston, where officials are urging residents to evacuate as waters continue to rise into the weekend. Flooding and rising rivers continue to pose a threat to central and eastern North Carolina counties including Lenoir, Robeson and Cumberland.
Some models predict it could be Saturday before the Neuse and Tar rivers crest, with high waters lingering for days afterwards.
The N.C. Department of Public Safety announced Friday morning that the State Medical Response System and the North Carolina Office of Emergency Medical Services have established mobile emergency response department in Benson, Kinston and Goldsboro to help flooding victims who are too sick for general shelters.
Seventeen counties have been approved by McCrory for disaster unemployment insurance for those unemployed directly due to the floods, including Beaufort; Bertie; Bladen; Columbus; Cumberland; Dare; Edgecombe; Greene; Harnett; Hoke; Hyde; Johnston; Jones; Lenoir; Nash; Pitt; Robeson; Sampson; Wayne; and Wilson counties.
McCrory also announced that two more counties, Harnett and Sampson, were approved for federal disaster aid, adding to 32 counties approved for federal funding. The other counties previously approved include: Beaufort; Bertie; Bladen; Brunswick; Camden; Carteret; Chowan; Columbus; Craven; Cumberland; Currituck; Dare; Duplin; Edgecombe; Greene; Hoke; Hyde; Johnston; Lenoir; Nash; New Hanover; Onslow; Pamlico; Pasquotank; Pender; Perquimans; Pitt; Robeson; Tyrrell; Washington;Wayne; and Wilson counties.
Greene, Harnett and Sasmpson counties joined 14 counties approved for federal assistance to repair or rebuild damaged homes. The other counties include: Bertie; Beaufort; Bladen; Columbus; Cumberland; Edgecombe; Hoke; Johnston; Lenoir; Nash; Pitt; Robeson; Wayne; and Wilson counties.
All 100 counties of the state will be eligible for funding to help mitigate future storm damage.
Coastal areas have also been recovering. Villages in Dare County, including Waves, Rodanthe and Avon, reopened for visitors this morning after waters receded from N.C. 12.
Local and state emergency officials are conducting preliminary damage assessments in affected counties in order to gather documentation needed to apply for federal assistance. Meanwhile, state officials report, rescue crews continue to search for survivors and utility crews continue to work to restore power, clear debris and open roadways.
To Learn More
Individuals and business owners who sustained losses in the designated area can begin applying for assistance Tuesday by registering online at www.DisasterAssistance.gov or by calling 1-800-621-FEMA (3362).  Disaster assistance applicants, who have a speech disability or hearing loss and use TTY, should call 1-800-462-7585 directly; for those who use 711 or Video Relay Service (VRS), call 1-800-621-3362. The toll-free telephone numbers will operate from 7 a.m. to 10 p.m. seven days a week until further notice.
To donate make a donationa to the N.C. Disaster Relief Fund or text NCRECOVERS to 30306.