PENDER COUNTY — Emergency crews were going house-to-house Thursday looking for flood victims as waters in the Black River Basin continued to rise.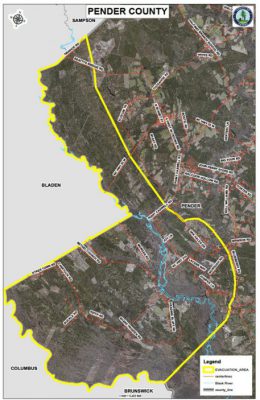 Pender County Emergency Management Director Tom Collins said by telephone early Thursday afternoon that the river continued to swell, but it was not rising as fast as it was earlier in the week.
"What we're doing now is we're going to check every house that's flooded," Collins said.
Floodwaters have affected about 630 homes and businesses along the river basin in Currie, a rural community dotted with farmlands west of Moore's Creek National Battlefield on N.C. 210.
A mandatory evacuation was issued for residents in the Black River Basin on Tuesday as waters rose rapidly – a reported 3-5 inches an hour – trapping several residents. A helicopter, boats and trucks were being used to rescue stranded residents from the flood.
"I know that we've pulled about 20 people out with the helicopter," Collins said.
More residents were retrieved from floodwaters by rescuers on boats and in 5-ton vehicles. Rescuers and volunteers were also rounding up family pets and livestock stranded in the floodwaters.

"We've got anything from a pot-bellied pig to goats to horses," Collins said.
By Thursday afternoon the river had risen to more than 18 feet.
"It's probably going to go a little higher," Collins said. "It's going to be there through the weekend and probably into next week before it goes down."
The Northeast Cape Fear River near Burgaw was expected to crest Thursday at 17.4 feet, more than seven feet above flood stage.
Water Quality, Public Health Risks
Rising floodwaters following Hurricane Matthew's heavy rainfall could create environmental and health hazards as waters creep toward concentrated animal feeding operations and coal ash ponds.
Riverkeepers have been busy this week surveying flooded rivers feared to be carrying pollutants that could affect water quality.
"There are a number of hog waste lagoons that have been breached," said Madi Polera, a biologist with Cape Fear River Watch. "There have also been coal ash spills that we're concerned about."
Lower Neuse Riverkeeper Travis Graves said he was worried about the public health effects of compromised hog waste lagoons.
"Our first concern is bacterial contamination," Graves said.
He said coal ash ponds also posed a threat if their dams were breached. Coal ash contains a slurry of dangerous chemicals, including arsenic and selenium.
On Thursday, the Waterkeeper Alliance, the national nonprofit organization under which the riverkeepers operate, and Upper Neuse Riverkeeper Matthew Starr announced that Duke Energy's shuttered H.F. Lee plant's cooling pond's dam was breached at Quaker Neck Lake in Wayne County.
While the cooling waters are not contaminated and do not pose a threat, the coal ash ponds do.

Starr said he was "very worried" about the saturated retainer walls of the coal ash ponds, water in inactive coal ash sites and a portion of an active coal ash pond that is underwater.
As of Thursday, officials were not concerned that the coal ash pond at the Duke Energy Sutton Steam Plant near Wilmington would be breached or flooded, "but we are still downstream of a lot of water, which will be coming our way," said Mike Giles, a coastal advocate in the North Carolina Coastal Federation's Wrightsville Beach office.
Toxic Soup
Graves said everyday contaminants, such as those found in gas stations, landfills and factories, also pose environmental and public health threats. He urged people to be extremely cautious and to stay out of the water if they can.
"All of those types of waste that we try to contain on a day-to-day basis," he said, "are free and flowing."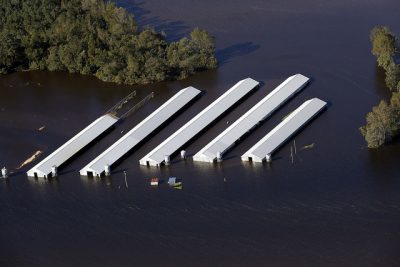 Once this "toxic soup" soup of pollutants reaches the state's sounds, Starr said, it could cause problems with fisheries, crabbing and ecosystems.
At this point, Polera said, officials are hopeful the rain dumped onto the area during Hurricane Matthew will create a flushing effect similar to Hurricane Floyd in 1999.
"What we're kind of hoping here is that with as much water as we have that it is going to flush the landscape," she said. "We're hoping that we won't see any big fish kills like we did in (Hurricane) Bertha."
Gov. Pat McCrory, speaking during a tour of Kinston Thursday, noted that portions of Craven County along the Neuse River will be most greatly affected on Saturday and into next week. The problems in Craven County will likely affect Cove City, Dover, Fort Barnwell, Vanceboro and other communities in western parts of the county.
Drinking Water Advisories
Residents who are on a public water system that lost pressure during or after the storm should follow the directions of local emergency officials and their water utility and not resume normal water-use habits until the system has been checked and deemed safe for human consumption.
If water from a water system is cloudy, it should be strained through a clean cloth, and then boiled for at least one minute before consumption.
Residents who use well water need to take precautions. If the wellhead was covered by flood waters, it should be tested by public health officials, even if the pump still works. State public health officials urge homeowners to contact their local health department to have wells tested if they have any doubts about the water.
Additionally, if a septic system has flooded, extreme water conservation practices are urged. Follow these tips when dealing with flooded septic systems:
Flush toilets only when necessary
Take sponge baths and do not run water while brushing teeth, shaving or cooking
Contact your county health department before doing maintenance or repairs
Keep pets and children out of standing water over the septic system
If you must be around the system, wash your hands often
The septic system may not work until the water table has dropped below the septic tank. Large systems will not start working again until the operator has inspected and restarted them.
Learn More