WRIGHTSVILLE BEACH — Tracy Skrabal, the manager of the North Carolina Coastal Federation's office here, has been named Woman of the Year by Wrightsville Beach Museum of History's Waterman Hall of Fame.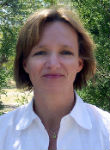 Skrabal is one of six honorees to be inducted in the hall of fame during a ceremony at 2 p.m. Sept. 25 at the Blockade Runner Resort. The awards recognize community spirit and personal contributions to the culture of water sports on New Hanover County Beaches. Skrabal was honored for her efforts to ensure clean water and natural resource protection.
"In addition, she lives the life, surfing every day that she can, often arriving at work with her hair almost dry," according to an announcement by the museum.
Since 1997, Skrabal has provided mentoring and experience in coastal stewardship to more than 500 high school and college students. She is an active member of Wrightsville Beach Longboard Association, serving as conservation liaison.  She has worked as a volunteer with the Surfer's Healing program and advocated for improved public beach access. She volunteers for annual stand-up paddling events in Wrightsville Beach and is an avid open water swimmer, surfer and paddle boarder.
The 2016 class also includes:
Kevin Walker – Diving
Robbie Wolfe – Fishing/Boating
Martin Willard – Sailing
Mike Barden – Surfing
Tony Silvagni – Surfing
To Learn More