Rep. Rick Catlin, R-New Hanover, resigned Monday from the North Carolina General Assembly, the Wilmington StarNews reported.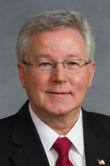 Catlin's resignation was expected; he had announced in November 2014 that he wouldn't likely seek re-election and would instead focus on his business after the death of the CEO of Catlin Engineering in Wilmington.
Catlin, who received a North Carolina Coastal Federation Pelican Award in 2015 for his efforts to protect groundwater quality, was often at odds with others in his party because of his stances on environmental issues.
The New Hanover County Republican Party is expected to recommend to Gov. Pat McCrory that Holly Grange, winner of the GOP primary in March and currently running unopposed, serve out the remainder of Catlin's term.
Learn More