Reprinted from the Outer Banks Voice
WANCHESE — Joey Daniels knows fish and the commercial fishing industry.
He grew up in the shadow of the men and women who built Wanchese Fish Co. into a global powerhouse that introduced the nation, and the world, to North Carolina seafood.
While other family members stuck with the bread-and-butter product line — finfish — Daniels became interested in a different segment of the seafood industry.
Oysters.
More specifically, farming oysters, a relatively new industry in North Carolina that faces federal and state regulatory hurdles in addition to the usual concerns of any farming operation — upfront investment, a product that has to survive from a seedling to a market-worthy size, weather hazards and, of course, a market price that can fluctuate over time.
But even though he was a family member, Daniels had to convince the board of Wanchese Fish Co. to back his idea and fund the endeavor.
He did, and the result is a dockside facility in Wanchese where the seedling oysters get their start.
When large enough they are moved to a nine-acre farm a short boat ride from the land-based facility, where the oysters are nurtured until they are ready for market.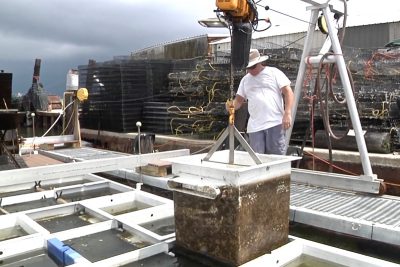 Daniels sees several advantages from oyster farming.
First, it will take pressure off the wild stock of oysters, which some scientists say have declined over 90 percent since the 1900s.
Another advantage is consistency of size. Daniels oysters will be sold to the half-shell market, which is primarily restaurants.
Farmed oysters can be separated and easily harvested by uniformed sizes, which appeals to restaurants that want their presentation of half-shells to look consistent.
The state is working on a long-term plan to bring back wild oyster stocks, but the task, if successful, faces many hurdles and the present stock is not nearly large enough to meet consumer demand.
Daniels found a series of roadblocks, both state and federal, which made his quest more difficult to achieve. One of the first was a North Carolina law that forced the entire oyster farming process to occur in open waters. Leases for open-water farms are granted by the state.
While nature can take its own course with the wild population, farming oysters, which is really cultivating them, requires a higher success rate than relying upon a seedling the size of a grain of sand to evolve into a mature, market-ready product.
In the past, the concern was that seedlings cultivated in non-open waters were being bred in less-than-pristine environments, prompting concerns.
Daniels says a small oyster can easily purge itself of these impurities during the initial stages.
"No, you don't want to have a nursery where there is fecal chloroform or other dilatory factors" that would delay or threaten movement to the next stage, he said.
Daniels continues: "But in waters like our dockside facility here, the water may be less than pristine compared to the open sound, but these oysters can easily purge themselves before they reach the 1-inch size, which is when we move them to the open water farm."
By keeping and sorting the single-seed oysters in underwater mesh cages, the seedlings are protected from most predators. Grain-sized seedlings are much cheaper to purchase than wild oysters, and if they can be protected through their entire life cycle, crop yield is higher, even if farm-raised oysters command a higher price due to the labor involved.
"Once North Carolina allowed us to have a nursery in non-open waters, our business model became easier to achieve," Daniels noted.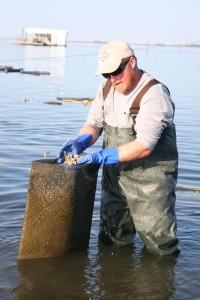 He credited Rep. Paul Tine and Sen. Bill Cook with "making this happen," noting Cook and his staff came to Wanchese to see the operation first-hand.
"They asked a lot of questions, especially regarding where the state could make this work."
Federal concerns are a different matter, but Daniels is hopeful for the future.
He explained that about every four years, the federal government assigns rules on a national level.
In 2012, the National Oceanic and Atmospheric Administration opened up a dialog on what became known as "National Permit 48," which runs from March 19, 2012 to March 28, 2017.
The public hearings start at the national level but drill down to regional levels.
In 2012, the regional public hearings were held in Wilmington and hosted by the U.S. Army Corps of Engineers.
Daniels said at the time, "we were way behind other states, including Virginia, on oyster farming so no one was present from our industry at that meeting. There is debate about whether oyster farms harm seagrass, which is essential to fishing nurseries. With no one present from our industry at that meeting North Carolina voted for a 'zero impact' on existing seagrass, as well as statewide regulations that further restrict oyster farming."
At the end of the day, Daniels said, he can only locate open-water farms in areas totally devoid of seagrass.
"Even one blade of grass can kill a proposed site. I had a 5-acre site rejected for 50-something seagrass shoots existing on the bed of the sound," he said. "And once we put in our farms, the cages where we raise the oysters capture floating seagrass and in every farm we have, some go to seed within our farm and start new seagrass beds. If they weren't caught in our mesh cages, they might wash ashore or go out to sea without ever laying down roots and flowering. So like it or not, our farms become new seagrass beds, creating rather than destroying submerged vegetation.
The next federal round of meetings takes place in 2017 and Cook's office said they are working on forming stakeholder groups and directives requiring state agencies to loosen up those rules so North Carolina can expand its oyster farming significantly.
Daniels is hopeful.
"This will help a lot of fishermen," he said. "It can become a year-round business for someone who wants to farm oysters only, or it can be used as a supplemental crop for fin and shell fishermen when other fisheries are closed off by season, regulation or even the presence of fish locally."
This story is provided courtesy of the Outer Banks Voice, a digital newspaper covering the Outer Banks. Coastal Review Online is partnering with the Voice to provide readers with more environmental and lifestyle stories of interest about our coast. You can read other stories about the Outer Banks here.