WILMINGTON – This could be the dawn of a new era for more natural ways to control erosion called living shorelines.
The Army Corps of Engineers has released for public review its list of nationwide permits, including a proposed permit that specifically addresses living shorelines.
Nationwide Permit B is the Corps' first living shorelines permit. Living shoreline projects are built using various structural and organic materials, such a plants, submerged aquatic vegetation, oyster shells and stone.
For years, permitting guidelines for living shorelines were folded into rules governing shoreline stabilization methods under Permit 13.
The Corps issues nationwide permits for a whole host of activities covered by the federal Clean Water and Rivers and Harbors acts. The review of applications for such permits is streamlined because the activities will have minimal effects on the environment.
The new living shoreline permit has been a long time coming, proponents say, as research has mounted in support of the practical and environmental benefits of this shoreline erosion control technique.
Permit B further legitimizes living shorelines, raising awareness of this shore stabilization alternative at the federal level.
More importantly, proponents say, the new permit will help speed up the permitting process for living shorelines and should more evenly balance agency review times for living shorelines and hardened erosion control structures, such as bulkheads.
The Corps cannot mandate one specific approach to shoreline stabilization, but the agency does acknowledge the benefits of living shorelines.
"We are trying to provide as much equitability as possible between NWP 13 and the new, proposed NWP for living shorelines, so that landowners can consider a variety of options," the Corps states in its June 1 release of existing, modified and new permits. "By providing an efficient authorization option, landowners have incentive to select an environmentally preferable bank stabilization option where appropriate."
As it stands, the permitting system for shoreline stabilization projects in North Carolina gives bulkhead and revetment applicants an unfair advantage because they generally take less time to process than living shoreline applications, critics note.
The Corps' Wilmington District has regional general permit 291 that covers shoreline projects in or affecting navigable waters. This permit was developed in conjunction with the North Carolina Division of Coastal Management and was one of the first state programmatic general permits authorized in the country.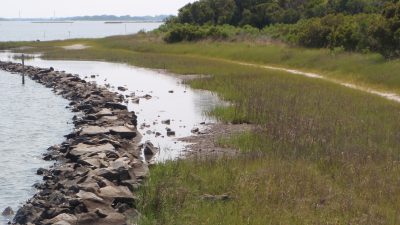 Henry Wicker, the Corps' deputy chief for the regulatory division at its Wilmington district office, explained that, once the agency receives an application for a Permit B, it has a specific time frame in which it must review the request and respond to the applicant.
"With this nationwide permit there's a potential, if they have a complete application, we'll either let them know prior to the 45 days that they're going to get the permit or, if we don't let you know, then you automatically get the permit by default," he said. "The good thing for the public is that it does put a 45-day time limit on it."
Living shorelines generally work best along sheltered coasts such as estuaries, bays, lagoons and coastal deltas, where wave energy is low to moderate.
Permit B proposes to limit the placement of structures and fills to within 30 feet of the mean high water line or ordinary high water mark.
The Corps points out that this is not a design standard, but a general guideline as to how far out a living shoreline project may be constructed before it may adversely affect the environment.
A district engineer can waive that 30-foot limit if the engineer determines the project would result "in only minimal adverse environmental affects" after consulting with other agencies, under the Corps' permit proposal.
Other conditions of the new permit include:
Projects must be no longer than 500 feet along the bank, unless waived by a district engineer
Stone, native oyster shell and other structural materials must be adequately anchored to prevent them from moving around in wave action, except for extremely severe storms
Native plants must be used in projects in tidal or freshwater fringe wetlands
Dredged and fill material discharged into federal waterways, and reef structures in navigable waters, must be the minimum necessary to build and maintain the living shoreline
Designed, built and maintained so that it has no more than minimal adverse effects on water movement between the waterbody and the shore and the movement of aquatic organisms between the waterbody and the shore
Does not discharge dredged or fill material into special aquatic sites, unless waived by the district engineer
Be properly maintained, including repair after severe storms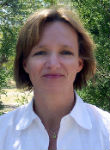 Permitted living shoreline projects would not have to receive further Corps authorization for maintenance and repairs unless required under one or more of the Corps' general conditions or regional conditions.
As of press time, the Corps had not released its proposed regional conditions on the permits. The public may comment on those conditions as well.
The North Carolina Coastal Federation's Tracy Skrabal, a coastal scientist, said her organization will be closely reviewing the proposed regional conditions on Permit B.
The federation has been commenting on and making suggestions for the new proposed permit.
"We're very supportive of this nationwide permit and it will, in fact, remove a federal impediment for us to promote and for people to choose a living shoreline project over another approach," she said. "We have been waiting for some process to create an incentive or at least level the playing field for the choice of living shorelines. The nationwide permit, even with a pre-construction notice, will allow a much more automatic approval of these projects and that's what we're looking for at the federal level."
The Corps plans to track which methods applicants are using to control erosion on their properties by asking two questions in an applicant's pre-construction notice: 1. Have you considered living shorelines? 2. Are consultants and contractors in your area qualified to design and build living shorelines?
"I think at the end of the day we think this is a big step in the right direction and we commend the Corps for doing this," said Laura Lightbody, project director of The Pew Charitable Trusts' Flood-Prepared Communities program.
She and others within the organization are studying the proposed permit before submitting comments to the Corps.
The Corps updates its nationwide permits every five years, a process the agency has been doing since the 1970s.
There are 50 nationwide permits. The Corps is proposing two additional permits, including Permit B. The existing permits will expire March 18, 2017.
Written comments on the proposed revised permits will be accepted through August 1.
To Learn More