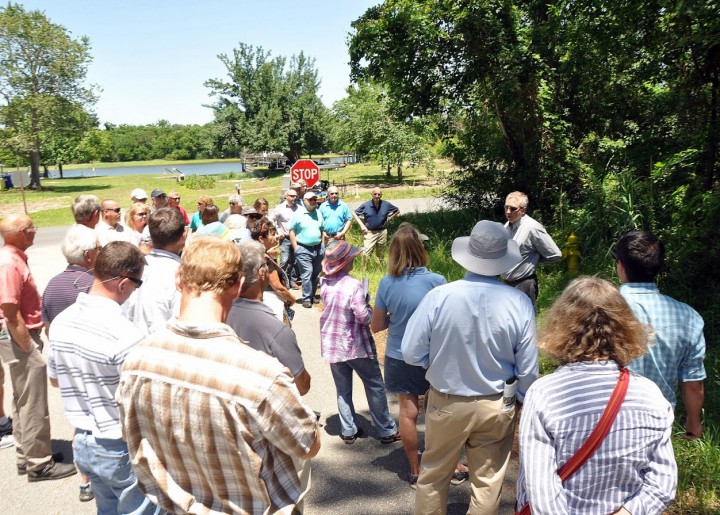 OAK ISLAND — They're simple ditches on the side of a road, but swales and similar, low-impact technologies could change the way coastal towns divert and treat stormwater, with less large-scale engineering and money.
"Aren't they underwhelming?" Tracy Skrabal, a scientist with the North Carolina Coastal Federation, said about swales "They're beautiful."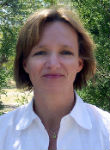 Skrabal was speaking to a group of about 45 coastal residents, engineers and city government representatives who gathered last month at Oak Island, a beach community on a barrier island in Brunswick County. They came to learn more about how the community is using swales and similar techniques to reduce runoff at six sites on the island.
Swales are trenches on the side of a road designed to catch and hold stormwater runoff until it soaks into the ground. They are one of several types of these infiltration techniques the federation showcased during the tour.
Porous pavement, rain gardens, swales and other types of techniques that force runoff to seep into the ground are better for the environment, Skrabal explained, than simply diverting it into the nearest waterbody. Using money from a federal grant, the federation and Oak Island tried to prove the point by using these mitigation methods at the six sites.
Researchers from the University of North Carolina-Wilmington monitored the sites for several months and concluded that the systems had been hugely successful. The goal was to reduce runoff by 200,000 gallons over a one-year period, but the researcher found that runoff had been reduced by almost 385,000 gallons.
The Problem with Runoff
Stormwater runoff is especially worrisome for coastal communities.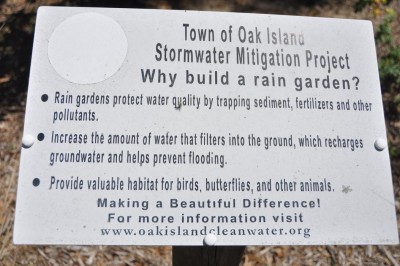 When it rains, water runs down hard pavement and into drains, ditches or pipes that carry the runoff into the nearest waterbodies. As the water flows, it collects bacteria from animal droppings, dirt, chemicals, oils and other pollutants.
On the coast, bacteria and sediment from runoff have been shown to contaminate estuaries and oyster beds, hurting ecosystems and local fishing economies. Stormwater runoff can also contribute to erosion and flooding.
Fortunately, nature has its own way of removing these impurities from the runoff and slowing down erosion, Skrabal said. For example, simply digging a swale next to a road allows the water to collect and filter through the soil, she said. Eventually, this water will replenish groundwater reserves.
Lloyd Young, an engineer with Bechtel Corp., a construction and civil engineering company, attended the tour with fellow engineers of the coastal branch of the American Society of Civil Engineers. He said these simple solutions can reduce the need for more elaborate engineering solutions.
"What we learned today," he said, "is that underwhelming solutions are often very important to reduce pollution, to reduce stormwater and maintain the quality of life as development takes place."
Communities Taking Note
Representatives from Pine Knoll Shores, Sunset Beach and Oak Island were also present on the tour. They agreed that runoff is a pressing problem in their beach towns.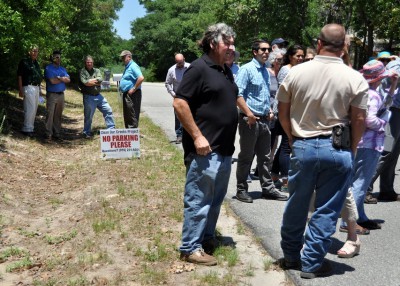 Clark Edwards, a councilman in Pine Knoll Shores in Carteret County, said the town's low-lying streets are often submerged during storms.
"We've been struggling in our town, as many have, with the problem of runoff that becomes flooding," he said.
Sheila Bell, an Oak Island councilwoman, said that continuing development on the island in Brunswick County makes stormwater runoff concerns even more important. "We are growing so fast," she said. "The concern is that as we clear lots and take away tree coverage, that we are adding to the stormwater issue."
Other coastal towns have joined Oak Island in using techniques discussed on the tour. Sunset Beach, for example, has begun installing similar methods, said Susan Parker, the town manager. She said they not only provide flood control, but also improve water quality.
Edwards said that Pine Knoll Shores will be working with the federation soon to implement some low-impact solutions there.
All the towns' representatives agreed they would like to see more of the simple techniques presented during the tour in their communities.
"We're pushed into the fancy or complicated solutions when really common sense, simple ones often work exceedingly well," said Edwards.
Long-Term Solutions
The three town representatives said it was too early to know how their towns would pay for the long-term use of these techniques.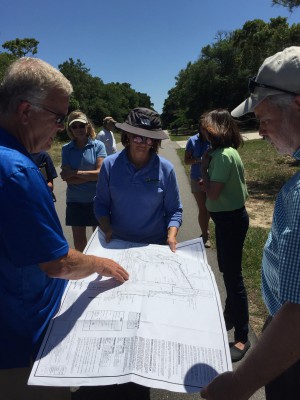 Bell said that Oak Island recently created a new position for a stormwater administrator and slightly increased residents' stormwater fees, which could pay for implementation.
She said she was amazed by the effectiveness of the techniques and thought other council members may support using natural infiltration techniques.
"We know the problem is there," she said, "and we are very open to solutions that will not cost our citizens. I cannot even fathom that it would not be something that we would consider."
Edwards said that because of his town's specific needs, a stormwater fee may not need to be imposed. Pine Knoll Shores, Edwards said, needs to educate its residents about the causes of runoff and how to prevent it.
"We have to educate people to understand that the town next to the road does not have to be a putting green," he said. "It does not have to be sodded right up to the road."
Parker said she is hoping the Sunset Beach town council will have a stormwater budget approved during a meeting in this month. This money, she said, will pay for analyzing how best to address stormwater runoff. Recommendations about possible solutions would come next, she said. She said it's too early to see if a stormwater fee is a viable option the community will support.
"We're in the very early stages," Parker said, "but at least we're moving in the right direction."