The U.S. Environmental Protection Agency and trustees of N.C. State University's endowment fund and the university's natural resources foundation have reached a settlement agreement regarding management of the Hofmann Forest, which may have violated the Clean Water Act.
The Army Corps of Engineers started investigating possible illegal ditching of wetlands in the Hofmann Forest in Onslow and Jones counties in 2014 after the N.C. Coastal Federation requested information about more than 5,500 acres in the forest that may have been cleared, possibly for agricultural uses.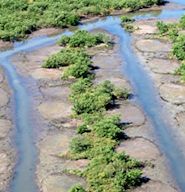 As a part of the settlement, the foundation, as manager of forest operations on the property, agrees to plug ditches to restore natural water flow on 120 acres of the 79,000-acre working forest, and to update and enhance the water management plan for the property to ensure compliance with the Clean Water Act.
Forest managers have begun to plug 10 ditches on 120 acres to allow natural water flow to restore forested wetlands. The foundation may continue to grow and harvest trees on this section of the property, but it may not use machinery to plant trees in these areas. This work is to be completed within six months.
The N.C. Forestry Foundation Inc. purchased Hofmann Forest in 1934 and manages it for the College of Natural Resources.
"We look forward to moving ahead with plans to maximize benefits from the property for our academic programs while continuing to protect the majority of the 79,000-acre forest from intensive development," said Mary Watzin, dean of the College of Natural Resources.
The foundation and endowment fund's plans for Hofmann Forest include maximizing the land as a natural resource and long-term financial asset for the benefit of academic programs in the College of Natural Resources, while protecting the majority of the 79,000-acre forest from intensive development.
Money generated through forest activities will go toward research and academic offerings by providing additional scholarships, funding new experiential education opportunities for students, facilitating interdisciplinary research and supporting new professorships.