ATLANTIC BEACH — Nobody goes to Atlantic Beach to look for the Bogue Banks Lighthouse, but a few go to Washington, D.C., to do so. That's where they find it.
It's not that the lighthouse has been moved. It did exist, for seven years in the 1800s near the eastern end of the long, narrow sand spit off mainland Carteret County. The only evidence of the structure now is in the National Archives.
It's a memory that lives on nowhere else, unless, maybe, just maybe, a few bricks of it remain somewhere, in something, on the grounds of Fort Macon in the state park that occupies the space near where that lighthouse once stood. If anything else remains of the Bogue Banks Lighthouse, it's almost surely buried under concrete at the nearby Coast Guard station.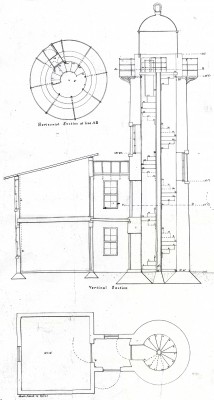 Paul Branch, a park ranger who is the historian at Fort Macon State Park, probably knows more about the lighthouse than anyone, because he's, well, a historian, and he's written about it. And even he admits it wasn't much of a lighthouse, only about 50 feet tall. Still, it was a lighthouse, and lighthouses are, you know, romantic. There's a whole society devoted to them – the American Lighthouse Society – and the members are, well, a bit obsessive. They'll travel long distances to see them, to take pictures of them. They'll even, as we will discuss more thoroughly later, go to the National Archives to "see" a lighthouse than no longer exists.
"People love lighthouses," Branch said. "They just do. They can be obsessive, a little. But, I mean, if you don't play golf and you don't hunt or maybe don't fish, what're you gonna do? Maybe you go look at lighthouses."
Branch, like most historians, is a self-described "pack rat" who never throws anything away. He isn't obsessive about lighthouses, but he is about Fort Macon and anything that relates to it.
Lighthouses, he said, have always been big, if not always tall, in North Carolina, where the waters off the Outer Banks are famed as the "Graveyard of the Atlantic." They dot the N.C. coast, with the most famous ones at Cape Hatteras, Cape Lookout and Ocracoke Island. Those, while relics in this day of computerized, GPS navigation, still stand as silent sentinels to the romantic, bygone era when mariners, be they commercial shippers or seafaring warriors, needed beacons to get safely through inlets from the ocean to the growing towns along the shore.
Cape Hatteras, Ocracoke Inlet, Cape Lookout and Cape Fear all received navigational aids in the late 18th and early 19th centuries, according to Branch, but Beaufort Harbor was neglected.
Beaufort became an official U.S. port of entry in 1803 and by the mid-19th century had eclipsed Ocracoke Inlet in importance as the state's second major seaport, Branch wrote in a 2004 article for Ramparts, a publication of the Friends of Fort Macon State Park, a volunteer support group.  But no lighthouse was built to guide mariners through the inlet. Period nautical charts provided only depth soundings leading into the inlet. Later, Coast and Geodetic Survey charts for the early 1850s provided a complicated set of sailing directions to guide ships through the inlet, Branch wrote. For instance, a ship approaching the entrance of the main ship channel was instructed to use Fort Macon, a large sand dune on the western end of Shackleford Point and a white spire visible in Beaufort as a set of ranging points to align in a certain order with compass bearings to pass through the channel.
"There is little wonder that a number of ships (the most famous of which was Blackbeard's pirate ship Queen Anne's Revenge, (now discovered and the subject of displays at the N.C. Maritime Museum in Beaufort and elsewhere) grounded and were lost over the years in trying to access Beaufort Harbor," Branch wrote.

Finally, on Aug. 31, 1852, Congress appropriated $5,000 to build a small harbor lighthouse on the eastern end of Bogue Banks. Construction started about two years later. Capt. Daniel P. Woodbury of the Army Corps of Engineers picked a site somewhat back from the always shifting beach, on a large spit of stable, dry land adjacent to the marsh, about 200 yards northwest of Fort Macon.
According to Branch's article, construction continued through the winter of 1854. Plans called for a brick lighthouse tower with a two-story building attached to be used for storage.
The odd thing, Branch said recently, is that while the plans on file in the archives depict the tower as being circular, when it was built, it ended up being octagonal. There's no real explanation for that.
High Visibility
The Bogue Banks Lighthouse, according to Branch, might not have been much to look at, but it had a heck of a lens, a fourth-order Fresnel, invented by Frenchman Augustine Jean Fresnel. There were six "orders," or sizes. Reportedly, the Bogue Banks beacon was visible out 12.5 miles to sea.
While the lighthouse was being built, according to Branch's research, Congress appropriated an extra $1,000 to build a separate beacon tower to supplement the lighthouse. The beacon served as a ranging light that when lined up with the lighthouse allowed mariners to enter Beaufort Inlet at night. The beacon had a small Fresnel lens fixed on a heavy timber tower 30 feet above the water. Its light was visible about 11 nautical miles out to sea. The smaller light was built about 1,000 yards southeast of the lighthouse. To further assist mariners entering Beaufort Inlet, a series of buoys was strung along the channel.
Woodbury, according to Branch, finished his work in the spring of 1855. The two lights were put into operation on May 20, 1855. And they worked.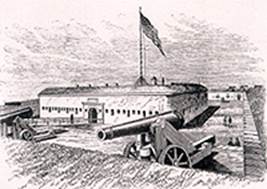 "For the next several years the lights operated successfully, guiding mariners through Beaufort Harbor," Branch wrote. "The 1860 census lists Thomas Delemar as the Lighthouse keeper."
The Civil War began a year later, and that was the beginning of the end of the Bogue Banks Lighthouse.
Fort Macon was seized by local secessionist militia forces on April 14, 1861, two days after the firing on Fort Sumter in Charleston Harbor that marked the beginning of the war. Gov. John W. Ellis sent state troops to seize the fort and lighthouse with orders to "take the most active measures for the defense of the post under your command, and hold it against all comers. Remove all buoys, extinguish all harbor and other lights, and take every precautionary measure to strengthen and guard the approaches to your position."
"Accordingly, the lights in the Cape Lookout and Bogue Banks Lighthouses and the Bogue Banks beacon were all extinguished for wartime security," Branch wrote. "There was no reason to maintain the lights to aid Union warships patrolling offshore."
By June, 1861, the very valuable Fresnel lenses were removed from the lighthouses and stored in Beaufort to protect them. The lenses were shipped to Raleigh in 1862 when Union forces captured New Bern and advanced on Fort Macon.
The fort's commander, Col. Moses White, decided some preparations were necessary to defend the fort. Tall structures, like the lighthouse, had to go, to ensure a clear range to fire.
"On the evening of March 27 (1862), the fort garrison toppled the lighthouse over onto the ground. It broke apart into sections and lay in a crumpled heap in the sand," Branch reported. It had been attached to a small brick structure, which remained intact.
Little Evidence, Little Interest
In the final days of the war, Union Gen. William T. Sherman's army captured Raleigh, where the lenses for the Cape Lookout and Bogue Banks lighthouses and the Bogue Banks beacon were found still carefully bundled and stored. These were subsequently returned to U.S. Lighthouse Board. The Cape Lookout lens was re-established in 1867.
But not Bogue Banks.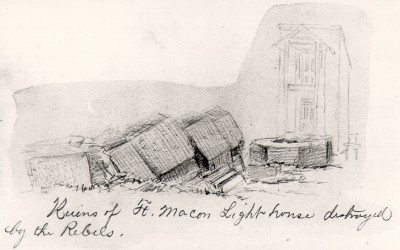 Congress in 1867 declined to re-establish the two lights at Fort Macon, according to Branch, and they were dropped from the list of lights two years later. For the remainder of the century only a line of unlighted buoys marked the channel passing over the bar into Beaufort Inlet.
"As far as we know, nothing remains of it," Branch said of the lighthouse. "There wasn't really a whole lot of interest in it right after the war. The country was tired of war, tired of the military. Congress cut back on repairs at forts. Although there's no proof, no evidence, my guess is that those bricks from the lighthouse might well have been used for general repairs at Fort Macon."
There's really, he said, no way to know, and except for those scant archives and a few drawings by Union soldiers, there's not much evidence that the lighthouse ever existed. There's also, to be honest, not a whole lot of interest, Branch said, even though people who visit Fort Macon are almost always interested in the famous lighthouse at Cape Lookout.
"They ask how to get there, and we tell them," he said.
Which brings us back to the fact that, yes, there are people who will go to Washington to learn more about lighthouses that don't even exist anymore.
Bruce Roberts of Morehead City is one of them. He and his wife, Cheryl, are founders of the Outer Banks Lighthouse Society and were instrumental in saving the Hatteras Light a couple of decades ago. He's won awards, written numerous books about lighthouses along all of the U.S. coastlines and he'd like to see a replica of the Bogue Banks light built somewhere at Fort Macon.
"It would be a great drawing card, and it would offer great views of the sound and the waterfronts," he said. "I'm too old to push it; I'm 86. But if someone else would do it, it's a great idea."
Lighthouses, you see, are not just lighthouses. "Ray Jones (author of the Lighthouse Encyclopedia) said, 'They call to us not just across the water, but also across time,'" Roberts noted.
Another way to put it? A lighthouse is a window into American history, and a darned good one.
"There is a tremendous amount of American history tied to lighthouses," Roberts said. "They were very important. They were crucial to trade with England and Europe. And trade was where the federal government got its money, before the income tax."
A lot of lighthouse lore is tied to the military, too, Roberts said. Military engineers designed many of the country's lighthouses, he said. "Many of the lighthouses in America were built by men who became generals in the Civil War, on both sides," Roberts said.
That kind of knowledge, Roberts said, is part of the lure of lighthouses. You start investigating them, learning about them, and you learn far more than you ever intended. You dig deeper and deeper into Americana.
"Lighthouses are a good way for kids to connect with the people not just in the Civil War, but also in the American Revolution," Roberts added. "One of the first things George Washington did as president was to push for lighthouses."
Could, Roberts wondered, a "new" Bogue Banks Lighthouse stimulate some to learn more history? He'd love for someone to try.
Learn More