Warm Cranberry Bacon Dressing
In a few quick minutes, you can have this sweet 'n tangy dressing stirred up to brighten up holiday leftover vegetables, dress a bright green salad or a fall cabbage collard slaw.
4 slices bacon, cooked and crumbled, drippings reserved
1/2 cup cranberry sauce
4 tablespoons reserved bacon drippings
1/4 cup good balsamic vinegar
3 tablespoons juice (apple, apple cider, orange)
1 clove grated garlic
1 pinch salt, pepper, thyme and cinnamon
Warm cranberry sauce with drippings in microwave or stovetop until liquefied. Whisk in vinegar, juice, garlic and seasonings.
Note: If too thick for your preference, add a bit of your favorite salad oil for desired consistency.
Turkey Pot Pie
Who hasn't said that after seeing those holiday leftovers one more time?  Take what you have left and throw together a crowd-pleasing pot pie. You can also make smaller pies to freeze and enjoy in the cold weeks to come. Measurements here are approximate and ingredients can vary. Just use what you have to work with. For example, if you have leftover corn, add corn. If you have green beans but not casserole, just use the green beans.
3 cups  shredded turkey
1 cup gravy
2-3 cups leftover green bean casserole
1 cup garden peas
1 cup cooked carrots
2 cups leftover sweet potatoes or sweet potato casserole. Any sort will work. White potatoes work too.
2 cups leftover turkey dressing/stuffing
1 cup grated cheddar cheese
4 tablespoons butter, melted
Preheat oven to 375 degrees.
Spray a skillet or two-quart baking dish (or, make several pies in smaller foil pans to freeze for later).  In bowl, mix together turkey, gravy and vegetables.  Spread into baking dish.  Gently fold together sweet potatoes, dressing, cheese and butter.  Dollop on top of turkey mixture.  Scatter with more cheese if desired. Place pie into heated oven. Bake for about 25 minutes until hot and bubbly.  This will make about 6-8 servings.
Butterscotch Pecan Skillet Pie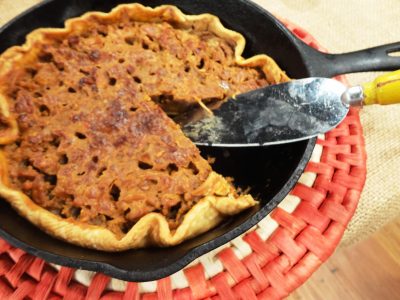 Cooking and serving pie from a skillet just seems to make it taste better. This pie just says fall with the toasty pecans and richness of the butterscotch.  Top with Sweet 'Tater & Molasses Ice Cream and get ready for accolades all around for your delicious dessert.
Serving Size: 8
1 1/2 cups N.C. pecan pieces
2 tablespoons flour
3 large local eggs – beaten with whisk till slightly frothy
1 11-ounce bag butterscotch morsels
1/2 cup brown sugar
1 stick butter — melted, cooled
1 teaspoon vanilla
1 unbaked pie crust (your recipe or store bought)
Preheat oven to 350.
Spray 10- or 12-inch cast iron skillet; place crust into prepared pan. It will naturally "ruffle" as shown in picture.
In medium bowl, mix pecan pieces with flour. Add remaining ingredients and mix well.  Pour into pie shell and bake at 350-degrees for about 40-45 minutes.
Let pie cool before slicing as it is easier to cut at room temperature.
Serves eight.
Recipes © Wendy L. Perry Inc. May be shared with credit cited.