A new study commissioned by the Southern Environmental Law Center finds that North Carolina and neighboring states would see little or no economic benefit from proposed offshore drilling for oil and natural gas and that the activity would put at risk existing sectors of the economy.
The study released this week calls into question the 2013 petroleum industry report often cited by drilling proponents to justify opening the Southeast to oil and gas development. The American Petroleum Institute and the National Ocean Industries Association, oil and gas industry groups, commissioned Quest Offshore Resources Inc. to prepare the 2013 study, which is better known as the Quest report and promises significant potential benefits from opening the Atlantic outer continental shelf to oil and natural gas exploration and drilling, including nearly 280,000 new jobs and up to $23.5 billion for the U.S. economy. The Quest report projects more than $26 billion in economic contributions to North Carolina's economy alone and nearly $4 billion in state government revenue from 2017-2035.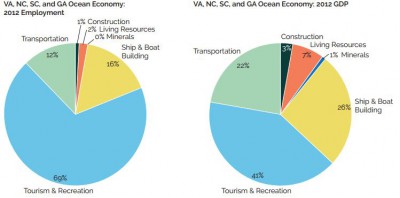 The new study says the projected benefits are significantly overestimated because the Quest report was based on an incomplete and misleading economic picture.
"The oil and gas industry has widely cited the Quest report to boast the economic benefits of drilling in the Atlantic, but the report presents too optimistic a view of the gains to the regional economy and fails to place oil and gas activity in the context of the larger ocean economy that may be vulnerable to disruptions from oil and gas," according to the new report compiled by the Center for the Blue Economy at the Middlebury Institute of International Studies at Monterey, Calif.
The new report looks specifically at the interests of North Carolina, South Carolina, Virginia and Georgia where the existing ocean economy, industries such as tourism, recreation and commercial fishing, accounted for 249,000 jobs in 2012.
"This total is larger than the number of oil and gas jobs estimated by Quest for 2035. The region's ocean economy paid $7.515 billion in wages and contributed $14.5 billion to the economies of the South Atlantic region. The largest sector in employment in 2012, with 171,159 jobs, was tourism and recreation," according to the Middlebury Institute's report.
The Middlebury report says any predicted employment and economic gains must be weighed against possible losses to these existing economies caused by industrial growth onshore and routine contamination and the threat of major oil spills associated with the petroleum industry.
The Middlebury report also notes that the projected revenues for individual states from offshore leases and production in the Quest report are based on assumed revenue-sharing agreements with the federal government that do not exist and fails to acknowledge the long history of difficulty in establishing revenue sharing in Congress.
"The Obama administration has opposed revenue sharing, and Congress has historically been extremely reluctant to share revenues with the states," according to the new report. "Moreover, current rules designed to reduce the deficit create a very different fiscal environment for the federal government than when revenue sharing was established for the Gulf States a decade ago."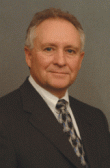 The National Ocean Industries Association was quick to respond, calling the new study a "red herring" that misses the point that Atlantic oil and gas activity could add tens of thousands of jobs and billions of dollars in revenue and investment to Atlantic states. The group's president, Randall Luthi, issued a statement Tuesday saying the groups claiming that revenue sharing will be difficult to achieve are "disingenuous" and are actively lobbying against revenue-sharing legislation
"No one can predict future government policy, but with the Atlantic lease sale proposed for 2021, stakeholders have over five years to get a revenue sharing agreement in place for all coastal states, complementing the lion's share of economic benefits that will be derived from jobs, direct investment and GDP growth," Luthi said. "NOIA and other proponents of offshore energy development strongly support legislation that will ensure revenue sharing for Atlantic states."