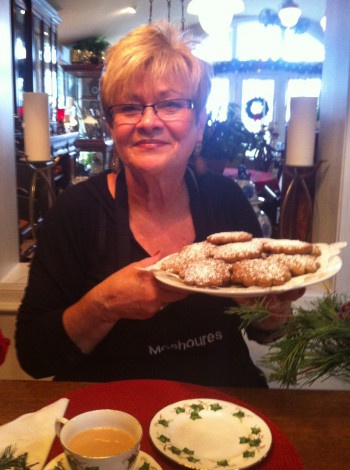 OCEAN ISLE BEACH — Nostalgia and remembrance are important to the holiday season. Typically, we only look back a few generations when we make family plans for Christmas and the New Year. Recently, though, one cook in Brunswick County looked back a little further – to our Colonial past – for a food-centered presentation.
"It's nice to go back in time and think about food the way our forefathers might have," said Karen Moshoures. "The bills of fare for Christmas time had meats and vegetables, but not as many sweets as you'd think."
Ingredients like sugar and spices were rare and expensive. Recipes were unspecific guidelines and were accomplished, without modern cooking equipment, in cauldrons on wood fires.
For the past three years, Moshoures has been the host of local cable channel ATMC-TV's "The Coastal Kitchen." The presentation was a part of the regular Tuesday night lecture series at The Museum of Coastal Carolina in Ocean Isle Beach.
"We tend to cover history and we thought this would be a good fit," said Susan Silk, marketing coordinator for Ingram Planetarium and the museum. "Karen's programs are popular because they are informative and tasty."
Moshoures has given other food-related talks at the museum in the past – on topics from seafood to appetizers. But this Colonial Christmas program was an ideal assignment for her. She is a big believer in holiday gatherings and she lived in Great Britain until she was 12, a place that is the root of Colonial traditions in the United States. Although she still travels there on a regular basis and is familiar with plum puddings and English desserts, Moshoures researched recipes and traditions for this lecture for more than a year.
Not all of the recipes turned out well. "I think people back then ate because they got hungry, and not necessarily because the food tasted good," she said during the presentation.
Still, attendees enjoyed the wassail and cookies she offered served.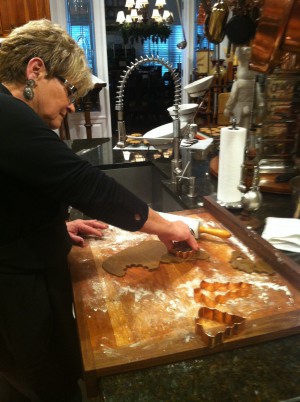 There were two resources she found to be helpful: the Colonial heritage programs in Williamsburg, Va., and Old Salem, the Moravian settlement in what is now Winston-Salem. She did include some savory dishes for the program like the Welsh Rabbit (or Rarebit) recipe from Chowning's Tavern.
"But I love to bake," she said. So she focused on desserts, including those sweetened with molasses and brown sugar. "I also wanted to include ones that anybody could do in their own homes," she said.
She tweaked the recipes in her own kitchen in Ocean Isle Beach, where her show is also taped. She and her husband both love to cook and got into the habit of cooking for crowds, sometime 30 or 50 people at a time, when one of their dear friends was diagnosed with ALS, or Lou Gehrig's disease. "We would cook once a week to help keep his friends and family close by," she said.
Their kitchen reflects that love of entertaining. Moshoures has a stainless steel double-refrigerator and five ovens. It's right next to the extensive dining room that seats 16 people. Other rooms in the home reflect a love of history, antiques and decorating for the holiday.
"We have always tried to be a place where anybody can come for Thanksgiving or Christmas if you don't have anywhere else to go," she said. It's a holiday sentiment that is timeless.
---
Colonial Recipes
Apple Tansey
From The Compleat Housewife, or Accomplished Gentlewoman's Companion, 1754
"Take three pippins, slice them round in thin slices, and fry them with butter; then beat four eggs, with six spoonfuls of cream, a little rosewater, nutmeg, and sugar; stir them together, and pour it over the apples; let it fry a little, and turn it with a pye-plate. Garnish with lemon and sugar strew'd over it."
Moshoures Notes: The cook tried three different versions of this dish, using varying modern measurements in place of these ambiguous ones. Although she guesses that the desired result would be apples baked in custard, the results were closer to an egg-ier taste, she said. Pippins were a popular apple, but Granny Smiths work in their place.
Blown Almonds
From The Court and Country Cook, or New Instructions for Confectioners, 1702
"After having scalded and blanch'd your Almonds, let them be stirr'd about in the White of an Egg:  Then let them be put into powder'd Sugar, and well roll'd in it. Having thus ic'd them over once, if you perceive that they are not done enough, dip them again  into the White of an Egg, and afterwards into powder'd Sugar:  At last, they may be laid upon a Sheet of Paper, and bak'd in an Oven, with a gentle Fire."
Moshoures Notes: This recipe for basic candied nuts works well for modern cooks, too. Use ½ to 1 cup blanched whole almonds, 1 egg white and ½ cup sugar. Try using a finer-grained sugar, but not powdered. Put the sugar on a plate or saucer about ¼ of an inch thick. Lightly beat the egg white. Dip the almonds in the egg white, and then the sugar, and place on a pan. Allow to dry 20-30 minutes and repeat dipping almonds into the egg white and sugar. Bake at 300 degree oven for 15 minutes. You can watch a video of this recipe in a replica Colonial kitchen.
Holiday Wassail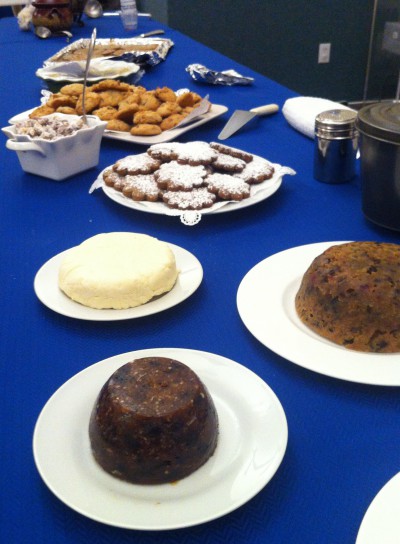 Wassail is a translation of "To your health"
1 cup sugar
4 cinnamon sticks
3 lemon slices
2 cups pineapple juice
2 cups orange juice
6 cups dry red wine
½ cup lemon juice
1 cup dry sherry
2 lemons, sliced
Boil the sugar, cinnamon, and 3 lemon slices together with ½ cup water for 5 minutes. Strain and discard the cinnamon and lemon. Heat (but do not boil) the remainder with the remaining ingredients. Garnish with lemon slices and serve warm. Makes 20 servings
Recipe courtesy The Williamsburg Cookbook
Gingerbread
Several versions of this holiday treat can be found in Colonial cookbooks. Moshoures decorated them with a sprinkling of powdered sugar.
1 cup sugar
2 teaspoons ginger
1 teaspoon nutmeg
1 teaspoon cinnamon
1 1/2 teaspoons baking soda
1/2 teaspoon salt
1 cup melted margarine
1/2 cup evaporated milk
1 cup unsulfured molasses
3/4 teaspoon vanilla extract
3/4 teaspoon lemon extract
4 cups stone-ground or unbleached flour, unsifted
Combine the sugar, ginger, nutmeg, cinnamon, salt, and baking soda. Mix well. Add the melted margarine, evaporated milk and molasses. Add the extracts. Mix well. Add the flour 1 cup at a time, stirring constantly. The dough should be stiff enough to handle without sticking to fingers. Knead the dough for a smoother texture. Add up to 1/2 cup additional flour if necessary to prevent sticking. When the dough is smooth, roll it out 1/4 inch thick on a floured surface and cut it into cookies. Bake on floured or greased cookie sheets in a preheated 375 degree oven for 10 to 12 minutes. The gingerbread cookies are done when they spring back when touched.
Recipe courtesy Entertaining Ideas from Williamsburg