Johnny cakes, hush puppies, corn pone, corn muffins. Fluffy and yellow. Thin, crispy and almost white. Baked in a pan, steamed as dumplings atop a pot full of collards, poured into corn-shaped molds or fried in a cast iron skillet. Cornbread has seen it all.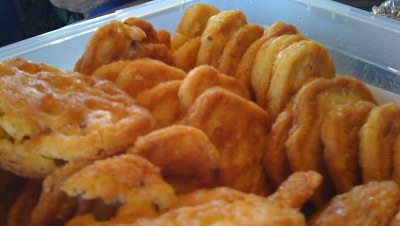 Cornbread started changing not long after Native Americans introduced their version to New World colonists. Algonquins used the word "apan," meaning "baked," when they prepared their simple combination of ground corn, water and salt. The blend was boiled, cooked on hot rocks or wrapped in leaves and baked.
Apan led to the term "corn pone." From there, the original Native American cornbread that sustained early New World settlers went in various directions.
Seeking something richer, the British added milk and eggs. Flour and eventually leaveners were mixed in to produce a lighter texture.
Despite the South's famous reputation as having the country's most insatiable sweet tooth, it was Northerners who preferred sweetened cornbread. Southerners liked their cornbread seasoned with salt, bacon fat and pork cracklings.
Flint yellow cornmeal blended with flour was common up North, white cornmeal stirred with little or no flour down South. Northerners wanted cakey cornbread. Southerners liked it on the crispy side – and oftentimes crumbled into a glass of buttermilk.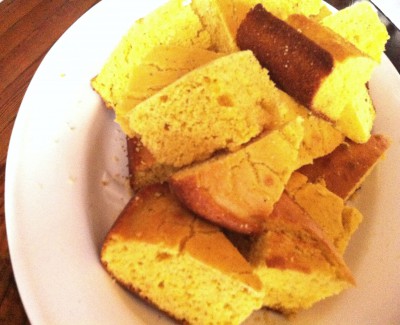 How the batter was cooked added to the array of styles. Cornbread baked by a fire might be spread on a propped-up hoe, plank, or stone, Mary Randolph wrote in the 1824 tome "The Virginia Housewife."
"Each colony, each community, had its own versions and names, a tradition that faded as the iron kitchen range made all hearth cakes virtually obsolete…"
That didn't stop cornbread's evolution. Today, fresh jalapenos, cheddar cheese, hot dogs, blueberries, broccoli, pumpkin, fresh basil, roasted peppers, sausage, bacon, zucchini and cottage cheese have all landed in cornbread.
Chef Karen Taylor felt nary a tinge of guilt when she went to tinker with  her grandmother's cornbread recipe. Taylor adored the family recipe made with buttermilk and baked in a well-greased cast-iron skillet. But something was missing.
"I like the sweet cornbread," Taylor admitted. "It's almost like having dessert and having a meal, too."
At her Taylor Cuisine Café and Catering in Southport, Taylor cubes and toasts that slightly sweet cornbread to make croutons. She lays them on a salad of pecans, fried chicken and mixed greens. Sometimes, Taylor tops cornbread batter with salsa or drizzles it with cilantro oil before baking. She might stir in jalapeno peppers and cheese and then serve the bread with black bean soup.
One of her favorite versions of cornbread comes from a friend who operates a Jamaican restaurant in the Bronx. The fried, sweet, light bread is more like the Italian doughnut called "zeppole," Ms. Taylor says. She likes to serve it with jerk pork or chicken. "I think the sweetness of it helps you really enjoy a spicy dish."
Ms. Taylor doesn't think her grandmother would mind all the cornbread recipe tweaks. Perhaps tolerance of changes is what caused cornbread to endure.
"I see it outlasting all of us," Ms. Taylor said.
Traditional Southern-Style Cornbread
2 tablespoons Crisco vegetable oil
2 cups coarse yellow cornmeal
1 ½ cups flour
2 teaspoons kosher salt
2 teaspoons baking powder
1 teaspoon baking soda
2 tablespoons sugar, optional
3 large eggs, beaten
2 cups buttermilk
1/4 cup melted unsalted butter
Preheat oven to 425 degrees.
Put oil in a 10-inch cast iron skillet and place into oven.
In a mixing bowl, combine cornmeal, flour, salt, baking powder, baking soda, and sugar if using. In another bowl, whisk together the eggs, buttermilk and butter. Combine the dry ingredients and stir just until all ingredients are moist.
Remove skillet from oven sprinkle the bottom of skillet with dry cornmeal. Pour in batter and bake for about 20 to 25 minutes, until golden brown. Serves 8 to 10.
Vernon's Jamaican Festival
3 cups self-rising flour
1 cup yellow coarse cornmeal
1/4 cup sugar
½ teaspoon kosher salt
1/4 teaspoon vanilla extract
1 egg
½ cup evaporated milk
1 stick unsalted butter
1/4 teaspoon grated nutmeg
A pinch of cinnamon
Ice cold water
3 cups of vegetable oil
Mix dry ingredients together in a mixing bowl. In a separate bowl, beat egg lightly, then stir in dry ingredients. Add milk and water enough to form a dough. Tear off golf-ball-sized pieces of dough and roll them in your hand.
Heat oil in a saucepan to about 250 degrees. Gently drop dough balls into oil. Fry until golden brown. Drain on paper towels. Makes about 20 pieces
Jalapeno Corn Bread
2 cups yellow coarse cornmeal
1 cup all-purpose flour
1 ½ teaspoon kosher salt
1 ½ tablespoon baking powder
2 tablespoons sugar
2 large eggs
2 egg whites
1 1/3 cups buttermilk
1/3 cup melted unsalted butter
1 cup corn kernels (can or fresh or frozen (thawed))
1/4 cup grated sharp cheddar cheese
1/4 cup finely chopped jalapeno peppers (remove seeds if you do not want too spicy)
Preheat oven to 400 degrees.
Grease 10-inch cast iron skillet and place in oven.
In a bowl, mix together dry ingredients. In another bowl whisk eggs, egg whites, buttermilk and melted butter.    Add the dry ingredients to the wet mixtures. Stir until just combined. Gently fold in corn, cheese, and jalapeno pepper.
Pour batter into hot skillet. Bake for about 30 to 35 minutes, until golden brown. Serves 8 to 10.
Source: All recipes provided by Karen Taylor.