The melting of ice in Greenland as a result of global warming could be affecting the circulation of ocean currents, including a possible slowing of the Gulf Stream that may lead to more quickly rising sea levels on the East Coast.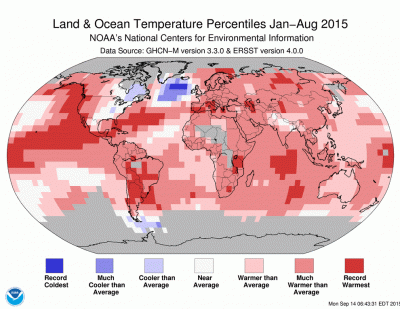 As the Washington Post reported Thursday, a surprisingly cold spot in the Atlantic Ocean south of Greenland and Iceland has been observed during the past eight months of what has otherwise been a record year for heat across the globe. Scientists are confident the observations are no fluke – the area encompasses well-traveled shipping lanes and is dense with buoy-mounted weather instruments.
The report was prompted by a recent global analysis by the National Oceanic and Atmospheric Administration's National Centers for Environmental Information.
Near record to record warmth engulfed much of the global land and ocean surface throughout the first eight months of 2015, resulting in the highest January–August period on record at 1.51 degrees Fahrenheit above the 20th century average, according to NOAA. Meanwhile, Near-average to much-cooler-than-average conditions were present across eastern North America, northern parts of the Atlantic Ocean and parts of the southern oceans.
Climate researchers fear the cooling is part of a process of slowing circulation in the Atlantic. The weakening of ocean currents could be caused by a freshening trend in the northern Atlantic, the result of melting ice and resulting increasing river discharge in the Arctic.
Some researchers say the simultaneous warming of the planet and cooling of the north Atlantic is the result of global warming. "There is strong evidence — not just from our study — that this is a consequence of the long-term decline of the Gulf Stream System … ," according to a researcher quoted in the Washington Post report.