WILMINGTON ­­– A new study finds that rising seas from climate change will bring in the second half of this century frequent flooding at elevations now only inundated once in every 100 years.
Sea level in North Carolina is forecast to rise by between 12 and 20 inches by the middle of the century and by as much as 4.2 feet by the year 2100 unless there is a substantial reduction in greenhouse gas emissions, according to a new study published in the journal Climate Change.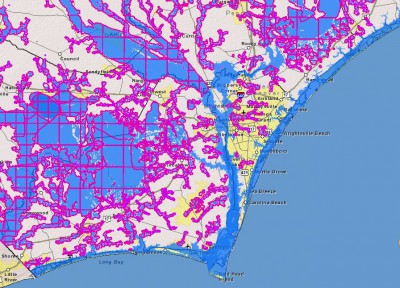 "Sea-level rise is a potentially disastrous outcome of climate change, as rising temperatures melt land-based ice and warm ocean waters," said Robert Kopp of Rutgers University, the study's lead author.  "As a consequence of sea-level rise, we can expect that what used to be called the 'one-in-100 year' flood will happen in Wilmington in most years of the second half of this century."
In the new study, researchers used sea-level data from the past 11,000 years to better understand the processes that cause sea level to rise.  Since the late 19th century, sea-level rise has accelerated to about an inch per decade, which is the fastest rate in more than 3000 years.
"Scenarios of future rise are dependent upon understanding the response of sea level to climate changes. Accurate estimates of past sea-level variability provide a context for such projections," said Rutgers oceanographer Benjamin Horton, another of study's authors.
To project future sea level for North Carolina, the research team used a combination of physical models, analysis of past sea-level changes, and expert assessment under two greenhouse gas-emission scenarios. They found that sharply reducing greenhouse gas emissions could lower 21st century sea-level rise in North Carolina by about a foot.
"Reducing global greenhouse gas emissions can make a significant dent on sea-level rise," Kopp said. "But regardless of what happens globally, there will still be a lot North Carolinians have to prepare themselves for locally."
Co-author Andrew Kemp of Tufts University said, "Sea-level rise projected for the coming decades poses a growing hazard to North Carolina's communities and infrastructure." Assuming the current distribution of property and economic activity, the researchers found that sea-level rise would nearly double average insurable losses from coastal storms by the end of the century.
The study also noted the importance of changes in the Gulf Stream to sea-level change in North Carolina. Both on timescales of several centuries and timescales of a few decades, changes in the Gulf Stream have shifted the rate of sea-level rise by up to about half a foot per century. Gulf Stream variations have produced a sea-level rise slowdown in North Carolina during the past three decades that has complemented a sea-level rise acceleration in the U.S. Northeast – a slowdown expected to soon come to an end as it is overwhelmed by the global rise in sea level.
The research will be published in the journal Climate Change and also included research conducted by Claudia Tebaldi of the National Center for Atmospheric Research. Support for the research was provided by the National Science Foundation, the National Oceanic and Atmospheric Administration and the U.S. Department of Energy.