C
harlotte Ann Mason was one of number of women who were appointed lighthouse keepers in North Carolina. Unfortunately, we know little about her and the other women. In fact, what you're about to read is about all we know about Charlotte Ann.
Historical records document the names of the female keepers, their birthplaces, service dates and salaries, but records don't reveal their day-to-day experiences. Personal recollections of these women — if any ever existed — have been lost or lie undiscovered. As a result, their narratives remain untold because they are not entirely known.
… in addition to such well-known and legendary figures as Queen Elizabeth I and Virginia Dare, a multitude of other women influenced the making of North Carolina. These women's stories have rarely been told, in part because their contributions tended to occur in the relative privacy of their families and communities.
North Carolina Women Making History by Margaret Supplee Smith & Emily Herring Wilson
The majority of women employed at North Carolina lighthouses were wives of head keepers. "… most of the women who were appointed to tend the lights … were acquainted with lighthouse routines, having learned their arduous duties by helping a father or husband with his work," wrote Mary Louise and J. Candace Clifford in their book
Women Who Kept the Lights: An Illustrated History of Female Lighthouse Keepers.
This was certainly true of Charlotte Ann Mason. Born on March 17, 1854, in Marshallberg in eastern Carteret County, Charlotte was the daughter of Manaen Washington and Sidney Ann Harris Mason. Charlotte's father, a mariner by trade, was appointed head keeper of Cape Lookout Lighthouse on May 21, 1869. Charlotte was 15 at the time and in school.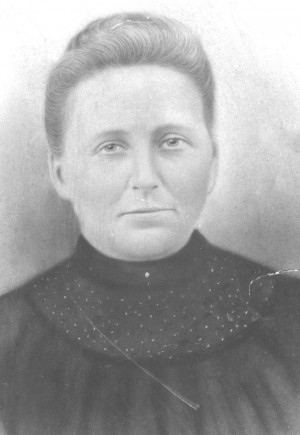 It's not known how often she visited, or assisted, her father at the lighthouse, but we do know that on Aug. 21, 1872, Charlotte, then 18, was appointed second assistant keeper of Cape Lookout Lighthouse. She took the oath of office later that month.
Charlotte's duties at the lighthouse were no different than those of her male counterparts. However, men employed by the Light-House Board wore an official keeper's uniform when performing their tasks — women did not.
"When cleaning and polishing the lens," said Karen Duggan, a National Park Service ranger, "She would have worn the required linen apron to prevent [her] clothing from scratching the glass."
Male or female, uniform or no, a lighthouse keeper's job was physically demanding. Duggan said Charlotte and the other keepers were expected to stand one watch in three. While on watch, Charlotte devoted her full attention to the light. She was also expected to keep the daily logbook; haul oil up 216 steps, sometimes more than once; clean the lens and other equipment; trim wicks and polish brass; and keep the tower, grounds and support buildings clean and "in shape."
As compensation for her work, Charlotte received an annual salary of $425. In comparison, her father was paid $700 as head lighthouse keeper. Benjamin P. Davis, first assistant lighthouse keeper, earned $400 annually.
A lighthouse keeper's job was indeed one of manual labor, but it also demanded a strong mental fortitude. At times, isolation and loneliness must have proved insufferable. Excursions to the mainland where Charlotte could shop, visit friends and partake in a variety of amusements, were few and far between.
"With a sailboat," said Duggan, "it would take the better part of a day just to reach Beaufort. A trip to the mainland was not an endeavor done on the spur of the moment."
Yet, despite the physical and mental challenges of her job, Charlotte persevered. It could be she found solace in the natural beauty around her or in the knowledge that her work guarded many a ship from danger. However, one can only assume to know her thoughts. The logbooks she was supposed to maintain are missing from the National Archives in Washington along with all the logs from the 1870s.
Without a doubt, life at the lighthouse was not always monotonous or lonely. In the summer, tourists visited the island. As a keeper, Charlotte would have escorted interested parties to the top of the tower and explained how the lighthouse operated. She likely looked forward to and enjoyed the interaction.
The year 1873 must have brought some excitement as men painted the lighthouse in its distinguishing pattern of diagonal black and white checkers. The year also saw the construction of a new keeper's quarters. The building, which now serves as a museum, housed the head keeper and his two assistants.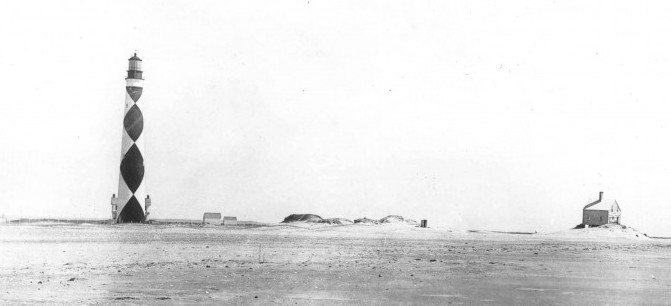 After two years and nine months, Charlotte resigned her post on May 27, 1875. A year later, her father was dismissed from his job as head keeper. The circumstances behind his removal are unknown.
Although Charlotte no longer worked at the lighthouse, she remained close by. On Dec. 1, 1877, Charlotte married a fisherman named Alfred Moore. According to Arthur T. Moore, who wrote "Moores of Carteret County" for the book Our Shared Past, the two lived on Shackleford Banks. One of their sons, Capt. Leslie A. Moore, followed in his family's footsteps and became an active keeper of the Cape Lookout Life-Saving Station. In that position, he performed and was recognized for several heroic deeds.
Charlotte and Alfred moved to Morehead City in 1900. There, Alfred worked as a boatman. He died on March 9, 1927, and Charlotte passed away two years later. It is interesting that the date on Charlotte's death certificate reads Feb. 25, 1929, yet her headstone, which stands in Morehead City's Bayview Cemetery, is engraved March 5, 1929. No one can explain this discrepancy. Charlotte's obituary appeared in the March 14, 1929, edition of The Beaufort News. It gave no mention of her short, but faithful service at Cape Lookout Lighthouse.
Charlotte Ann Mason was not the only female lighthouse keeper in North Carolina. Other women, including some who were never officially appointed lighthouse keepers, toiled daily to ensure the safety of mariners. It has been said that no one in the past would ever be forgotten if those of us in the present continued to speak or write their names.
Although not a complete list, it is appropriate that we remember the women whose names have been preserved within the pages of Lighthouse Keeper Logs and the Register of Officers and Agents, Civil, Military, and Naval, in the Service of the United States. Their names and approximate dates of service are: Rebecca Piggott Hatsel, Bodie Island Lighthouse, 1872-1873; M. L. Merriam, Northwest Point Royal Shoal Lighthouse, 1881-1885; Martha McCotter Keeler, Southwest Point Royal Shoal Lighthouse, 1891-1899; Susan McCotter Keeler, Northwest and Southwest Point Royal Shoal Lighthouse, 1897-1903; Lela Upton Simmons, Brant Island Shoal Lighthouse, 1895; and Eulalia Jennett(e) Simpson, Cape Hatteras Lighthouse, 1895.
Perhaps one day the lives of these women will be illuminated as brightly as the lights they once lit and their stories will at last be fully known and frequently told.