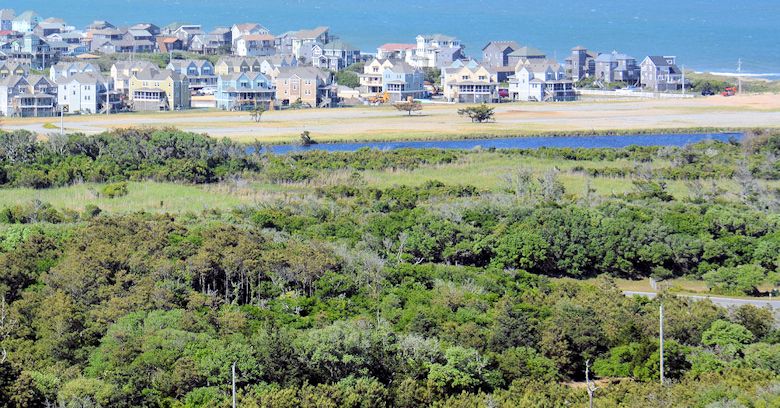 The maritime forest of Buxton Woods is an island of green amid the beach houses of Hatteras Island. Photo: Outerbanks.com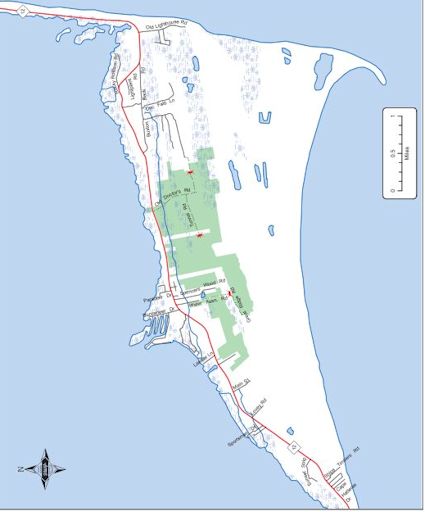 The Buxton Wood preserve stretches along N.C. just north of the village of Buxton. Much of it would have been destroyed for a golf course. Maps: N.C. Wildlife Resources Commission
BUXTON — Buxton Woods has perched for millennia on that windswept jut of land shouldering into the vast Atlantic known as Hatteras Island. But 25 years ago this maritime forest almost ceased to exist.
Part of a complex dune environment, Buxton Woods on Hatteras Island holds an otherworldly allure in the viney, impenetrable thickets and wind-shaped, mossy stands of ancient oak. It is America's most easternmost maritime forest, and its trails appear to wend mysteriously back into time. Buxton Woods, though, has always been offbeat.
Perhaps it's in the relict terrain, where beyond the surf clusters of shrubs and stands of red cedar give way to a line of dunes stabilized by the bordering woods. Here, sedges, seasonally flooded freshwater marshes crowded with cattails, sawgrass and wild rice, send spidery tendrils into the murky depths. Shimmering springs bubble up from the loam, making these blackwater swamps another maritime forest surprise. Great groves of oak and resiny pine may or may not yield to a salt pond marsh bordered by acres of meadow hay, where fiddler crabs scuttle and twirling shrimp come to rest at last on the briny bottom. And where the loblolly pine overlaps the palmetto palm is a special place, the biogeography demarcation line where north meets south.
Offshore lurk the treacherous Diamond Shoals, the graveyard of ships. Among the wrecks is the USS Monitor, the world's first ironclad warship. Here, too, raged the U-boat campaign of WWII, when Allied merchant vessels blazed like lurid torches in the night. In the Woods' midst a small cemetery contains the anonymous remains of British seamen, victims of that long-ago conflict. Sometimes, an owl's cry floats hauntingly over the gravesite.
The sodden soils and boggy depressions attest to the presence of an aquifer. Maritime forests evolved in part to retain and replenish the underground water table, and in time a vast body of freshwater collects within the porous matrix. When tapped, it is called a well field. Overpumping can lead to an insufficient water supply, saltwater intrusion and contamination and land deformation such as sinkholes.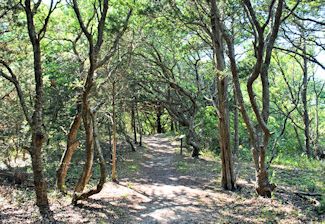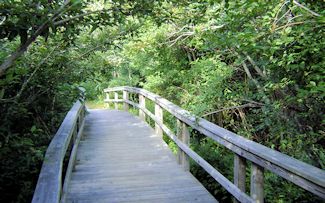 Buxton Woods offers several walking trails, top, that wend deep into the forest. A boardwalk provides easy access into parts of the preserve. Photos: Outerbanks.com, top, and National Park Service
Man's imprint is light upon the land, which harbors carnivorous plants and delicate orchids concealed in the foliage, swarms of butterflies sipping nectar from colorful flowers and pond frogs piping incessantly until dawn. Jurassic-looking cormorants spread big black wings to dry, as speedy-legged shorebirds run a perilous gamut of crashing surf yet somehow evade a soaking. Sand hills buffeted by ocean tempest are held in check by the network of root and rhizomes that anchor the grasses and forest. Even the hurricanes tearing across the landscape help clear away the pine trees and give the slow-growing live oaks space to mature. Nature's delicate stasis, in evidence everywhere, makes this fragile environment especially vulnerable to change.
The 1980s and '90s were economic boom times. Plans were developed concerning Buxton Woods' entrancing remoteness, rugged beauty and precious underground aquifer.
In 1986, the future began to look like a golf course and subdivision. As Buxton Woods sits atop Buxton aquifer, an outcry ensued over the effects of development on the water supply and stability of the forest. The Southern Environmental Law Center of North Carolina joined the Friends of Hatteras Island in opposing the project. To better control development, the N.C. Chapter of the Sierra Club nominated Buxton Woods for designation as an area of environmental concern under the state Coastal Area Management Act. The N.C. Coastal Resources Commission, which sets development policy in the state's 20 coastal counties, voted in 1988 to give the Woods such a designation, but allowed Dare County to adopt a special environmental-district local ordinance restricting development to protect the forest and aquifer. A landmark lawsuit in 1995 challenged a state permit that would have allowed the Cape Hatteras Water Association to dig wells in the Woods and strengthened protection of the maritime forest and its aquifers. The state stepped in to help secure funding for Buxton Woods as a state coastal reserve, acquiring the first 150 acres 25 years ago. Most of the remaining undeveloped forest – about 1,000 acres — was eventually acquired and permanently preserved.
Despite the contentious process, total protection of Buxton Woods remained elusive. But the key aspect of raising public awareness for the need of responsible land stewardship was achieved.
"It was an incredibly complex process," recalls Shay Herring Clanton of Friends of Hatteras Island. "It took a lot of groups of people a long time to accomplish."
Derb S. Carter, director of the law center's office in Chapel Hill, who prosecuted the permit challenge, concurs. "The local residents who worked to prevent inappropriate development deserve all the credit for preserving Buxton Woods," he said. "We were glad to provide assistance [and set] a legal standard for preserving it."
The coalition worked together but used different methods. Behind the scenes, for instance, the Nature Conservancy of North Carolina prioritized and purchased endangered tracts of available land, while the guidance and support of the N.C. Coastal Federation was especially useful, as Clanton recalls, during "the endless public meetings" and the "heavy lifting" crucial for success.
Today, a more esoteric threat faces Buxton Woods, explained Todd Miller, the federation's executive director. "The biggest concern is that private development will thin the tree canopy too much, and allow salt spray to intrude and kill back the remaining trees and vegetation," he said. "Protecting the canopy so that it remains thick and unbroken is key to healthy maritime forests.
Was the effort worth it? "Putting aside those maritime lands was one of the finest things I've ever done—despite my naiveté", wryly notes Clanton.
Ricki Shepherd, another Friend of Hatteras added, "Grassroots organizations can make a huge difference," she noted. "But you have to make the effort."
Buxton Woods still sits upon its jut of land, luring naturalists with a weird ear for diversion. A favorite is the fantastic birding opportunities. Athwart a migratory flyway, the skies of Buxton often fill with flocks of swans, geese and ducks of every strip, including scaups, grebes and the oddly-coifed but colorful wood ducks. In spring swallow-tailed kites may overshoot their southern nesting zones, while unfortunate migratory songbirds, some thousands of miles from home, fall prey to swift peregrine falcons and lordly eagles.
Still, barrier islands are inherently unstable formations, gone in the geologic blink of an eye. One needs an appreciation and a sense of place. "It's an amazing thing to live on a thin strip of sand in the ocean and be able to walk into Buxton Woods," says Shepherd. "I'm very proud of what the Friends of Hatteras Island accomplished."