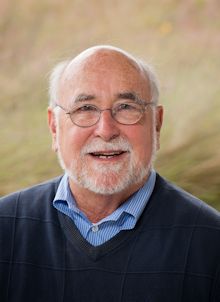 e Ramus thought he wanted to be an engineer building roads and bridges and such. Instead, he spent most of his life as a scientist studying the sea. Photo: Duke University
BEAUFORT — Joe Ramus grew up surrounded by walnuts in California, thinking he might want to be a civil engineer.
He ended up on the N.C. coast as a marine scientist, studying the salt water that surrounded him and working, professionally and as a volunteer, to maintain and improve its heath.
He's done that on several fronts, serving as professor, researcher and director of the Duke University Marine Lab on Pivers Island in Beaufort, and as a board member of Carteret County Crossroads, a grassroots environmental group. Since August 2013, the longtime member of the N.C. Coastal Federation has been secretary of the federation's board and a member of its executive committee.
It's a long way from walnuts, and at first glance, it seems like a long way from designing roads. But maybe not; after all, Ramus said recently, one of the secrets to federation's success has been the organization's ability to build bridges between people who seem divided by chasms, and to make inroads into disparate communities that might on the surface not seem likely to support environmental causes.
It's a philosophy, Ramus said, that starts with the group's founder and executive director Todd Miller, but it has consistently extended through the federation's staff and its legion of volunteers.
"He (Miller) looks for the common good, things that people have in common, and doesn't polarize," said Ramus, who has also served on the board of directors of the Carteret County Economic Development Council. "It's, 'Let's reason this through together and find some things we can agree on. And he works with incentives for cooperation, rather than things that divide, like lawsuits."
But back to that walnut grove, or to be more precise, to Walnut Creek, Calif., about 13 miles east of Berkeley and not much farther from Oakland. The town where Ramus grew up is in the San Ramon and Ygnacio valleys, below the western slopes of Mount Diablo in the coastal range mountains,
"I don't really recognize the place now, but back then, the hills were covered with California blue oak trees," Ramus said. "It was absolutely beautiful, and I spent as much time as I could there, walking and looking at all the animals and plants. I always loved nature."
But when he went off to college at the University of California at Berkeley, Ramus chose civil engineering. It seemed practical and likely to pay the bills as a career. But two years into college, Ramus had to quit and go to work to make money to pay for the final two years. He landed a job as a surveyor for a 200-mile aqueduct project, and literally spent the next two years walking through the coastal hills of the East Bay area.
Gradually, he said, engineering lost its appeal and a strong interest in biology grew in its place. When he went back to college, that's what he chose, and he spent a lot of time at the university's marine laboratory, which is now part of Davis campus.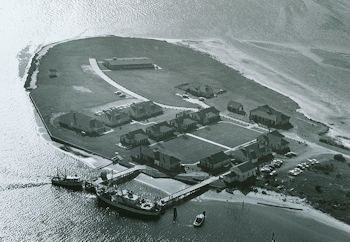 The Duke Marine Lab on Pivers Island near Beaufort was already renowned for its research when Joe Ramus arrived there in 1978, about a decade after this picture was taken. Photo: Duke University.
"I turned into a marine lab junkie," Ramus recalled. "I just loved it."
He finished his undergraduate degree in 1963, stayed at Berkeley for a Ph.D., which he earned in 1968, and then landed a job teaching and doing research at one of the few colleges in America arguably more prestigious than Berkeley: Yale.
He liked it there. But it didn't have a marine lab.
"Yale had a field station on Long Island Sound, and I spent as much time there as I could, but it wasn't enough," Ramus said.
He stayed for 10 years anyway, but kept his eye out for jobs at great schools that did have marine labs. When one appeared on his radar in 1978, it was at Duke, which had a renowned and growing marine lab, and he didn't hesitate to apply.
"I got the job and planned to stay for 10 years," he said. "I had 10-year plans: Yale for 10, Duke for 10, then somewhere else."
But like so many who arrived at that time in what was then a fabulously under-developed Carteret County, he fell in love, with the environment, and with a local girl, whom he married. He became entwined in the close-knit marine science community, which also includes NOAA and University of North Carolina labs, as well as the headquarters of the state Division of Marine Fisheries. Ramus also became entwined with the local people and culture.
Ten years became 35 and counting; he served a stint as director of the ever-more-prestigious lab and forged close relationships with numerous researchers engaged in countless projects.
It was – and still is – Ramus said, one of the most unique marine environments anywhere, ripe with research possibilities and a fine place to teach and continue to learn and contribute.
Within short distances, after all, you have the Albemarle-Pamlico estuary, a vast inland sea, plus rivers of all types, tidal creeks, marshlands and, just offshore, the Gulf Stream. It's a cornucopia of research opportunities, and Ramus took full advantage and still does.
Throughout the years, the basic theme of his work has been the ecological response of a large estuary, the Pamlico Sound system, to watershed-scale natural and anthropogenic perturbations. The crowning achievement, with Hans Paerl of the UNC Institute of Marine Sciences in nearby Morehead City, was the creation in 2000 of the FerryMon project, which has justifiably been renowned for its elegant simplicity: the placement of water quality-measuring instruments on the state ferries that cross Pamlico Sound, which was much used but little understood. But despite that simplicity – the ferries crisscross the sound every day – and the importance of the water body to all that is coastal North Carolina, it wasn't an easy project to start.
"Hans and I had kicked it around for a while, but we couldn't find much support," Ramus said. "Then Hurricane Floyd happened and everything changed."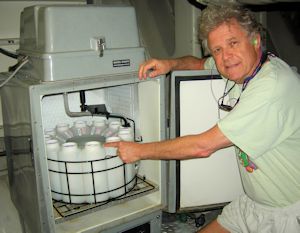 Joe Ramus teamed up with Hans Paerl at the University of North Carolina to develop a system to test water quality in Pamlico Sound by collecting samples on state ferries. Paerl is shown here with the collection equipment on a ferry. Photo: UNC
The hurricane in 1999 produced torrential rainfall in eastern North Carolina, adding more rain to an area hit by Hurricane Dennis just weeks earlier. The rains caused widespread flooding over a period of several weeks; nearly every river basin in the eastern part of the state exceeded 500-year flood levels. In total, Floyd was responsible for 57 deaths and billions of dollars in property damage.
More interestingly to researchers, it also sent countless tons of pollutants of all kinds downstream, much of it to the Pamlico. It was, essentially, for a time, "the end of the world" as people knew the sound. And everyone suddenly realized that while the effects were terrible, there was little way to know just how bad it really was, because there'd been no systematic baselines studies of the water, its quality or the changes wrought by weather events, large and small.
Ramus and Paerl convinced – Ramus said it was then easy – Jerry Gaskill, head of the state ferry division – to allowFerryMon(itoring) to launch.
The result, years later, is a vast body of knowledge about the sound. And to the surprise of many, what FerryMon has revealed is that the Pamlico is both very resilient and very susceptible to weather, even relatively small and frequent events, such as the passage of cold and warm fronts and low-pressure systems.
The Albemarle-Pamlico, Ramus said, is similar in scale to the Chesapeake Bay to the north in Virginia and Maryland, but quite different in "design." It's essentially a lagoon, with a lot of shallow water sloshing back and forth, very responsive to those weather systems. Changes happen fast, but so do returns to normalcy.
Through his studies of the natural and man-caused changes in the Albemarle-Pamlico, its components and other estuaries in the region, Ramus became a go-to guy for expertise on a variety of issues, including stormwater runoff. And along the way, he started volunteering his time and efforts to the federation. He's not exactly sure how it got started.
"I volunteered for some activity and enjoyed it," he said.
And one thing led to another and another and so on. He got more closely connected to – and more impressed by – the staff.
"It's just a tremendously effective organization, on a lot of different issues," he said. "The federation has been a leader on developing and convincing people to use low-impact development practices (to limit storm water runoff), for example."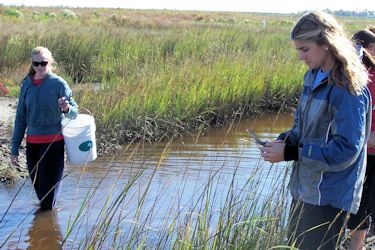 The N.C. Coastal Federation, Joe Ramus said, is training the next generation of environmental stewards with programs like this one where high-school students collect seeds at the federation' restored wetlands in Carteret County.
In addition, Ramus, like almost everyone, has been impressed by the federation's ongoing transformation of North River Farms in eastern Carteret County from a ditched-and-drained (and polluting) row crop and livestock operation to a vast, re-created wetland ecosystem, slowly returning to its old and crucial functions: filtering pollution and serving as home to wildlife.
And, Ramus noted, the federation has successfully championed oyster reef restorations and the use of natural materials and vegetation, instead of sea walls, to limit coastal erosion.
Equally if not more important, Ramus said, is the federation's emphasis on education, going into the local and regional schools to develop rain gardens and to teach even the youngest students the importance of protecting the coastal environment. Many of those students and their families end up as volunteers on federation projects, building those reefs and helping to restore habitat.
"The federation trains the next generation of environmental stewards, but it's not a flash of flight," Ramus said. "It's a slow, positive influence on people's lives, and it's fun. And there are more than 10,000 members. That's huge."
All of this makes Ramus optimistic about the future of the state's coast.  "We had the advantage, to begin with, of not being nearly as developed as some areas, such as the Chesapeake," he said. "We're probably 40 to 50 years behind in that, so the problems didn't get as bad before people noticed them and began restoration efforts. And once the federation arrived on the scene in the early 1980s, it quickly brought positive attention to bear on the issues. Although there have been declines in water quality in some areas as development has occurred, those declines would have been incalculably worse without the federation and its volunteers serving as watchdogs, lobbyists and laborers."
It's something Ramus sees all around the country, from the Chesapeake to his old walking grounds in the San Francisco-East Bay region.
"I think it's a growing ethic," he said. "More and more people see estuaries as things of value, things worth preserving and protecting. And I am hopeful. I don't think are mean and set out to destroy ecosystems. I think that they just don't know that they're doing that, and if they learn that they are, most will behave differently. I think we'll continue to make progress. It's going to continue to take a lot of work, and a lot of dedicated volunteers, but I'm optimistic."